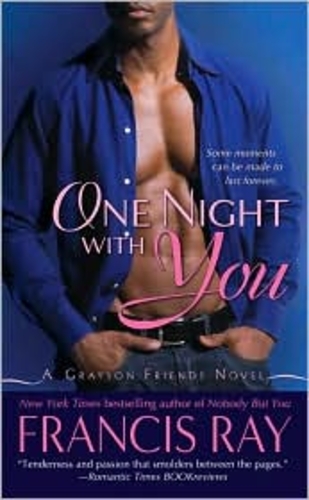 First Chapter: One Night with You by Francis Ray
New York Times bestselling author Francis Ray continues her captivating series about the Grayson family and their circle of friends with One Night With You, as two people with no plans for romance find themselves blindsided by desire…
THE THRILL OF THE CHASE
Cougars, brush fires, snow storms—rancher Duncan McBride tackles it all without a flinch. But the archeologist who's come to authenticate cave drawings found on his property is the kind of trouble he'd sworn to avoid. Far from the aging academic he was expecting, Raven La Blanc is a stunning woman…and definitely not sticking around this small Montana town once her job is done.
THE PASSION OF A LIFETIME…
The primitive drawings at Duncan's ranch are Raven's ticket to the tenured position she's worked so hard for back in Santa Fe. But there's no denying the attraction between her and Duncan. Maybe, just this once, she can put her work aside and explore the depths of her own heart and soul? One night may be all it takes for Raven to really find what she's looking for…
"FAST, FUN, AND FULL OF EMOTIONAL THRILLS AND s*xY CHILLS."—Roxanne St. Clair, bestselling author on Nobody But You
One Night with You by Francis Ray
Read the First Chapter Excerpt
Click Link to read full screen:
http://www.docstoc.com/docs/document-previ...
One Night with You Details
November 03, 2009
Series: Grayson Friends Series
ISBN-13: 9780312365066
ISBN-10: 0312365063
Pick up a copy at Amazon
http://www.amazon.com/One-Night-You-Grayso...
Pick up a copy at Barnes and Noble
http://search.barnesandnoble.com/One-Night...
PREVIEW ONE NIGHT WITH YOU
Read the Prologue Excerpt Below:
Love sometimes needed a helping hand, Ruth Grayson thought as she studied the wedding pictures of her five children on the mantle in her living room. Ruth had taken great pride in seeing that each child found the one person for them to love and be loved in return.
First, there was Luke, the protector and the oldest. For him, Ruth has chosen Catherine Stewart, a noted child psychologist. Catherine possessed a quiet spirit except when it came to championing abused children or her husband. For Morgan, the defender and her second born, the ideal match for him had been Phoenix Bannister, a renowned sculptress, who might appear quiet, but who burned with an inner fire.
Ruth's gaze moved to the third photo of her middle child, Brandon, the nurturer. The perfect woman for him was Faith McBride. Faith possessed the same warm, caring spirit as the man she adored. Pierce, the thinker and her fourth son, learned there were no rules in love when he fell in love with Sabra Raineau, a Broadway star.
A smile curved Ruth's mouth upward as she stared at the last photo. Sierra, her youngest child and only daughter, still believed she had chosen her life partner, Blade Navarone, without her mother's help. It didn't matter. The important thing was that Sierra, gifted with a knack of discernment, had captured the heart and soul of Blade Navarone, the only man whose passion matched hers.
Ruth's fingers touched the smiling faces of Blade and Sierra, and thanked God and the Master of Breath for keeping them from harm when Sierra was kidnapped. Ruth would forever be grateful to Shane and Rio, the two men in charge of Blade's security at the time, for their expertise and help in bringing everyone home safely.
Ruth's gaze moved to the picture of Shane and his smiling bride, Paige Elliott, on the coffee table. After Shane and Rio's help, Ruth had begun to think that they deserved the same blissful happiness that her children had found. It had only taken Paige's mother asking Ruth for assistance in keeping Paige from becoming engaged to an unscrupulous man for Ruth to set the wheels in motion to bring Paige and Shane together.
Ruth sighed and thought of Rio - silent, watchful. He would require more in-depth thought and study, but there wasn't a shred of doubt in Ruth's mind that the woman for Rio was out there, waiting. She and her sister-in-law, Felicia, wouldn't rest until they'd brought the two together.
In the meantime, Ruth had another opportunity to possible give love a helping hand.
She picked up the picture next to Shane and Paige's, a wedding photo of Cameron McBride and Caitlin Lawrence. The picture included the couple's cute and precious son, Joshua, the groom's brother, Duncan, their sister, Faith, and Brandon, and the groom's divorced parents, Paul and Stella McBride, who stood as far away from the other as possible.
Ruth's heart went out to Stella. She'd learned too late that the grass wasn't always greener on the other side of the fence. A tough lesson to learn at any age, but particularly daunting for a woman past sixty. Divorcing Paul, as Stella readily admitted to Ruth more than once and again during her unexpected phone call an hour ago, was the worst mistake of her life.
Stella lived with regret each moment of every day. Loneliness, not the man she loved, was her companion. She didn't want the same hopeless existence for her oldest son, Duncan. While Duncan wouldn't take his ex-wife back on a platinum platter, his unhappy marriage hardened his heart toward women in general and love in particular. The McBride family curse - successful in business and unhappy in love – probably wasn't helping him move forward.
Duncan's brother and sister might have beat the odds, but Ruth could understand as the oldest, he probably thought, looking at his unhappy parents that the family curse couldn't be escaped.
Ruth believed otherwise. It wouldn't be easy to make him see the possibilities instead of the pitfalls. It would take a special woman to stand up to a strong, commanding man like Duncan McBride on his Montana ranch.
The opportunity to do just that had just presented itself. Ruth replaced the photo and moved to the telephone in the kitchen and dialed Raven La Blanc's number. Brilliant, perceptive and as independent as they came, Raven was a friend and a fellow professor at St. John's College in Santa Fe. She had once told Ruth that she wanted stability and permanence more than anything in the world.
Raven needed to learn that security wasn't always a place.
"Hello."
Ruth straightened. Time would tell if she was able to help another mother's plea to aid her child. "Raven, its Ruth. A once-in-a-lifetime opportunity just presented itself and I immediately thought of you."
###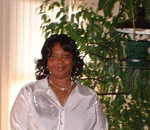 Posted By: EDC Creations
Friday, October 23rd 2009 at 3:06PM
You can also
click here to view all posts by this author...