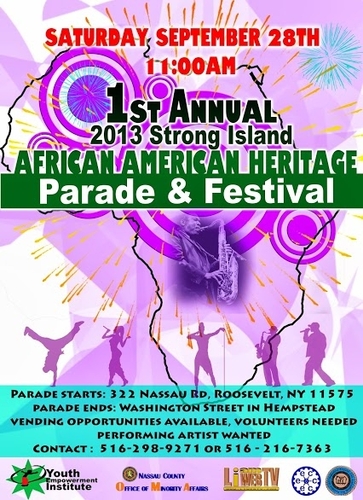 Hempstead, NY~ August 26, 2013- Youth Empowerment Institute Inc. and the Office of Nassau County Office of Minority Affairs along with Economic Opportunity Commission of Nassau County Inc. will be holding its First Annual Long Island African American Heritage Parade and Festival on Saturday, September 28, 2013 at 11:00 AM.
The parade scenic routes where you can capture history being taken place will be starting on Nassau Road, Roosevelt N.Y. alongside the Western Beef parking Lot and ending between Washington Avenue and Front Street in Hempstead, N.Y. This is a parade that you donít want to miss, bringing together the community to celebrate a day of fun and festivities.
The parade is set to bring together the leading civic organizations, business community, non-for-profits and citizens on Long Island for a festive event. The parade will be celebrating long Islandís African American Community rich cultural history.
The parade and festival is set to host a variety of performances that will have you dancing and singing throughout this historic event, and speakers will enlighten you on the importance of the rich heritage of African Americans on Long Island. There will be a variety of fine cuisines from the African American Diaspora.
A Health Pavilion will be available for you to sign up for health insurance and free health screenings will be available to the community. African Americans are at the highest risk for Diabetes and high blood pressure so itís very imperative that you get a health screening that will be provided at the festival. The Kiddy Corner will be available for children to enjoy activities in a family friendly environment.
The African American Heritage Parade and Festival objectives are to showcase the richness of the African American community on Long Island, EDUCATE our youth and allow them to experience African American pride by embracing its legacy. Volunteers are needed for this event and we are encouraging college and high school students looking to receive community service credits to be a part of First Annual Long Island African American Heritage Parade and Festival.
Contact us today at 516-532-2181 (tel:516-532-2181). Vending opportunities are available and performing artist is encouraged to contact us today. For information on participating in the African American Parade and Festival feel free to contact us at 516-298-9271 (tel:516-298-9271) or 516-216-7363 (tel:516-216-7363).
Posted By:
Friday, August 23rd 2013 at 6:46PM
You can also
click here to view all posts by this author...