Darrin Manning was forced to undergo emergency surgery after Philadelphia police officers ruptured his testicles during a Stop and Frisk. Call on Philadelphia District Attorney R. Seth Williams to drop all charges against Darrin, and hold the officers involved accountable.
Darrin Manning, a 16-year-old Black straight-A student and star athlete in Philadelphia, was with his friends heading to a school basketball game when they were stopped by the police. The police encounter quickly turned violent: Darrin claims that an officer handled him so aggressively that his genitals were injured, forcing him to have emergency surgery and possibly leaving him infertile.1
Darrin's shocking mistreatment and assault by police is shameful, yet the Philadelphia District Attorney, R. Seth Williams, is continuing to press charges against Darrin in court.
This case is catalyzing the Philadelphia community to speak out against the aggressive targeting of Black folks by the police and sparking national media attention, shining a light on the long history of the brutality perpetrated against Black and brown communities by the Philadelphia Police Department.2 If we act quickly and speak out against this injustice, we can make sure the District Attorney feels the pressure to drop the unfair charges against Darrin.
Please join us in demanding Philadelphia District Attorney R. Seth Williams drop the charges against Darrin and investigate the officers involved. It only takes a moment.
Darrin and his friends were simply heading to a basketball game when the police decided that they were "suspicious" and tried to stop them, as they do to so many young Black and brown men. The group started running away, but Darrin says he stopped running and tried to comply with police orders because he hadn't done anything wrong. Then according to Darrin, an officer violently patted him down and "grabbed and squeezed and pulled my private parts and I felt something pop."3
Darrin's story points to the ways that constant, baseless street stops subject our communities to police harassment and violence, which can so often turn lethal. Despite a court order to reduce it, Philadelphia continues to use Stop and Frisk at a very high rate,4 meaning countless other young men like Darrin face these invasive stops as part of their daily lives.
Darrin was the victim here, but he continues to face three misdemeanor charges.5 National outrage over Darrin's mistreatment is growing, so if we act quickly we can make sure the outrageous charges are dropped and that the officers responsible for this cruel act of violence are held accountable.
Please demand that the District Attorney drop the charges against Darrin and hold the officers involved accountable. And when you do, please ask your friends and family to do the same.
Thanks and Peace,
--Rashad, Matt, Arisha, Aimée, Jamar, and the rest of the ColorOfChange team
January 25th, 2014
Help support our work. ColorOfChange.org is powered by YOU—your energy and dollars. We take no money from lobbyists or large corporations that don't share our values, and our tiny staff ensures your contributions go a long way.
http://act.colorofchange.org/sign/dropchar...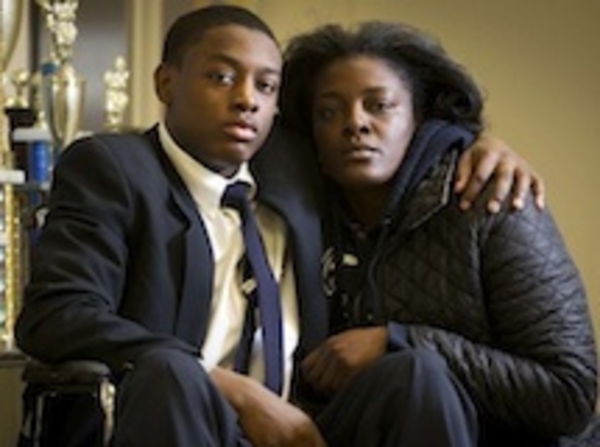 Posted By: Jen Fad
Saturday, January 25th 2014 at 2:14PM
You can also
click here to view all posts by this author...