HEY HARRY, NOBODY HERE ON BLACK IN AMERICA BELIEVES YOU
Let us take a look at what you posted, YOUR WORDS: These three idiots constantly whine and complain about the African slave trade, but not one of these idiots is an African man from Africa.
Let us stop here for a moment, , Now I know for a FACT that I was not born in Africa FACT. I also know that my people did not come from part of Africa by plane or bought a ticket and came to America by some luxury cruise ship, or properly came to the America's by our own FREE WILL FACT. HISTORY dictates that our ancient ancestors came from the west coast from Africa by way of The Atlantic Slave Trade which by now HARRY, you no this for a FACT. You also know for a FACT that no white plantation THUG can undo what YAH - God has created so knowing that, your next sentence sounds real foolish. YOUR WORDS HARRY: These ass holes are a new race of people known today as Black Americans descendents of plantation slaves. I have asked you this question for years now and I still have not got an answer; Why would GOD come to a people that he did not create?
YOUR WORDS: Black Americans were not on any of the slave ships that left Africa, only Africans were on those slave ships. HARRY, you know this for a FACT that our ancestors was on those slave ships bound for the America's from the 15th through the 19th centuries and that is a FACT.
YOUR WORDS: Black Americans came into existence on this continent of North America primarily in hard-core Confederate slave states like North Carolina, Tennessee, South Carolina, Alabama, Mississippi and Florida. The seven states will shortly become Black America's country that Black Americans will become a sovereign people to pursue life, liberty, happiness and prosperity in our own way!
I see that you was on the path of telling the people here on Black In America, how the Black Americans came into existence but you changed your mind in the middle because the first Black who came to North America was not slaves at all but indentured servant's and I have ton's of history to back-up that FACT.
YOU WORDS HARRY: All that I ask these idiots to do is to offer a permanent solution that would out-weigh their constant whining and complaining! A man that constantly whines and complains is an absolute idiot because he doesn't have a solution or a plug to plug the leak of their constant whining and complaining about African people which they are not.
HARRY, do you actually want our people not to know our great past before slavery? To who we are as a people and who's people we are? Not to teach the covenant and the prophecy YAH - God made with his people and to explore that connection and to relate our non- compliance to our condition here in the AMERICA'S?
Do you actually want our people to continue down this evil path of ignorance because YAH - God said that he will be back for what is his and I truly want to be in that number and bring as many of our people that believe the same.
The Good News of Salvation ] "The Spirit of the Lord God is upon Me, Because the Lord has anointed Me To preach good tidings to the poor; He has sent Me to heal the brokenhearted, To proclaim liberty to the captives, And the opening of the prison to those who are bound;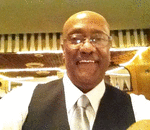 Posted By: Deacon Ron Gray
Saturday, April 22nd 2017 at 8:05AM
You can also
click here to view all posts by this author...