Today is the 18th Fatherís Day. Yesterday was pre-Fatherís Day. Tomorrow is post Fatherís Day, but nothing has changed!
Black Americans are still a subjugated race of people without our own country to live out our own aspirations and improve our live to our own best advantage.
This yearís Father Day is no different from the Fatherís Day of the past Fatherís Day of the future will be no different either unless Black Americans becomes a sovereign people in a country of our own to celebrate our first Fatherís Day in our own country.
Truthfully believe in your own salvation and God will grand it to those who believe and destroy those who donít!
We have believed in the Jewish White Jesus who belongs to the White slave-masters. The people that reside in the State of Israel today, they are Jesusí people not Black Americans since we are racially different. Jesus has not done anything divine for Black Americans. Only our own Black American prophet, Christ Harry God will do for Black Americans and I am our first anointed prophet by the same God that anointed Jesus and Mohammed.
I am the way, the truth and the light for all Black Americans! No Black American can come to God unless they first come through me, Christ Harry!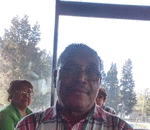 Posted By: Harry Watley
Sunday, June 18th 2017 at 3:56PM
You can also
click here to view all posts by this author...