It is frustrating to explain the same thing over and over to a grown man. The Christian bible contains only the stories and experiences of the Jewish people and the European Caucasian people.
Black Americans are entirely a different race of people from the Jewish and European Caucasian people STUPID. Why it is that you canít comprehend that Black Americans are not written in the White manís Christian bible?
The sole reason why you are wrong about Godís plan for Black American fathers is because you are not Black Americaís prophet; you are not a prophet at all. White American people have unintentionally deceived you to believe in their stories and experiences they had with God! That would explain why your dumb-ass always reverts to the White people to teach you about God.
Godís plan for Black America is not in the Psalms it is in me, Christ Harry. Iíve already told you that Godís plans is to give Black Americanís our own country and that is not said in the White manís Christian bible because we are not written about in the Christian bible or the Arabian Holy Quran.
I am Black Americaís first anointed prophet anointed by the same God that anointed Jesus, Mohammed and Moses.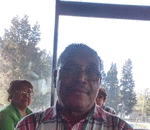 Posted By: Harry Watley
Monday, June 19th 2017 at 4:45AM
You can also
click here to view all posts by this author...