My friend said to me that earth is not his home. That his home is in heaven and not earth. How in the hell does this idiot know that heaven is his home where ever heaven is at or if it exist at all. I did not tell him that heaven was his home and I am his first prophet! So, I asked him was God stupid to create earth and all there be. The idiot looking up towards the ceiling ask God to forgive me for referring to God as an idiot. Thatís what my dumb Christian friend took away from our brief encounter. My friend has comprehension problems. He complicates everything because he sees everything complicated.
The logic I was bring into this idiot is that if this is not your home then why did God created it with all and more of the things humanity needs to progress and advance, but he didnít see that!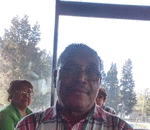 Posted By: Harry Watley
Sunday, July 16th 2017 at 6:44PM
You can also
click here to view all posts by this author...