I strongly encourage all you dumb-ass Black American so-called Christians to go and encourage your church to go as well and go through every part of that museum to see if any history of Black Americans descendants of plantation slaves is in that White manís Bible Museum!
Dumb-ass Ron I urge you to go to see that the real biblical Hebrew Israelite people were Jewish White people and their descendants are the same Jewish White people living in the State of Israel today!
I am positive you will find nothing of Black Americans! What you will find is the history of the White Jewish and European gentile people.
You all are ass-hole idiots towing around the White manís bible which is his history only because you all are ignorantly stupid!
I am Black Americaís first genuinely anointed prophet. I was anointed by the same God that anointed the Jewish White Prophet Jesus for his Jewish people. Our scriptures are yet to be written by us ourselves.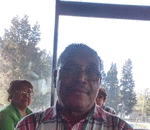 Posted By: Harry Watley
Monday, November 13th 2017 at 12:29AM
You can also
click here to view all posts by this author...