You donít learn who you are from another people, that is stupid!
It is the same as the Chinese confessing that the Japanese are the real Korean people.
Only the Japanese people can say who they are. Likewise, only Black Americans can say who we are.
It is stupid and ludicrous that Mr. Ron would accept the European people define and who Mr. Ron is. If Mr. Ron doesnít know who he is and Cancun lucidly ruled that he is who he say he is then Mr. Ron is a nobody!
Black Americans are a new race of people born out of the ashes of plantation slavery when the White American slave masters bred themselves with the first wave of their African slaves and continued to breed with the same slaves for the next 300 years until Pres. Abraham Lincoln outlawed plantation slavery, but by that time the breeding between the slave masters and the slaves had produced well over 30 million slaves without a country.
The real Israelite people are the people presently live in the state of Israel today. The Israelite people living in the state of Israel today are the descendents of Jesus and the biblical Israelite people!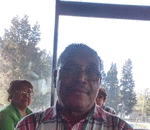 Posted By: Harry Watley
Saturday, January 13th 2018 at 6:54AM
You can also
click here to view all posts by this author...