Firstly, these men and women you are fond of like David Walker, Ida B Wells, William Monroe Trotter, Marcus Mosiah Garvey, Noble Drew Ali, Elijah Muhammad and his ministers like Malcolm X and Louis Farrakhan and fearless educators like Angela Davis are all failed leaders! You have to agree to that, they are all failed leaders of the past. You need to move on Mr. Stanton! The past cannot guide you.
Next, Mr. Stanton you said this. The consciousness of this country has not changed as far as race when the nation was founded. I then said to you that our (Black Americans) only permanent solution is that we must desire to become a sovereign people in a country of our own.
So, I am asking you again what is our permanent solution since you cannot continue whining and complaining about our oppression in this country.
Then, your last remark you said this. Sadly the masses have been so dumbed down they have no clue what is being done to them.
You are part of the masses that whines and complains constantly is it that you too has been dumbed down and have no clue what is being done to you?
To any problem there is always a solution! I, Christ Harry am Black Americaís permanent solution. The territory from the northern borders of North Carolina into the Gulf of Mexico and from the middle of the Mississippi River into the Atlantic Ocean will be handed over to me by the government of White America that will become Black Americaís country where Black Americans a NEW race of people can worship God pursue life, liberty, happiness and prosperity in our own way! What I just said is eternal justice for Black Americaís suffering and oppression by White Americans.
Incidentally, Steve you are tighting the screws to Mr. Stantonís head by pointing out how ignorant he is to be following Malcolm X. who has been dead now 53 years!
Mr. Stanton is driving forward while being guided by the rear view mirror which is a perfect recipe for a crash!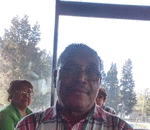 Posted By: Harry Watley
Wednesday, May 16th 2018 at 1:24AM
You can also
click here to view all posts by this author...