yet I, Christ Harry am the only one concern enough to blog these situations while the rest of you ass holes blogs about things irrelevant to the improvement of your own Black American peopleís lives yet you all think you are intelligent!
Iíll tell you what the permanent solution is! The permanent solution to the Black on Black killings in Chicago that has been going on for a very, very long time is that the elders take control of our own children without White peopleís involvement and for that to happen Black Americans must have our own country to raise our children as we see fit. White America bars us Black Americans from raising our children as we see fit according to our ethnicity and morals un-inhibited by White people and only God can bring this permanent solution about through me Black Americaís first anointed prophet.
To all of Black Americaís problems in White America is the same permanent solution which is Black Americans must desire to become a sovereign nation in a country of our own as I have described and it is going to happen since I am here on behalf of God the process has already begun to permanently free Black Americans from White Americans.
What say you!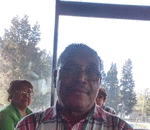 Posted By: Harry Watley
Friday, August 10th 2018 at 2:21PM
You can also
click here to view all posts by this author...