The Black American race should be concern about our origin; the time Black Americans originated and the place Black Americans originated in. And where do we go from here!
Who are we the Black American race/people? Black Americans are a NEW race of people! In fact, God did not create the Black American race. White Americans the slave masters made the Black American race when the White American slave masters institutionally and systemically bred themselves with the first wave of their African slaves. The slave masters bred themselves with each new generation of slaves for 300 years until Pres. Abraham Lincoln outlawed plantation slavery at the end of the Civil War in 1865.
Of course, what you started out with is not what you end up with! It started out with the White American slave masters and African slaves and you end up with a NEW race of people known today as Black Americans descendents of plantation slaves directly and indirectly.
Black Americans are neither Africans nor Caucasians. Black Americans are a NEW race of people born out of the ashes of plantation slavery.
I, Christ Harry Black Americaís first prophet anointed by the same God that anointed Prophet Jesus and Prophet Mohammed has given a watertight seal of Black Americaís time and place of origin that no one has ever put forth!
What say you!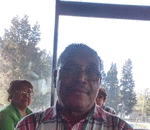 Posted By: Harry Watley
Thursday, September 13th 2018 at 9:29PM
You can also
click here to view all posts by this author...