Here is a story of a Lord of Drugs. . LA VIVA LOCO!
YOUR NATIONAL/WORLD NEWS
DAY 12
February 12, 2019
Brooklyn, NY
Joaquin "El Chapo" Guzman has been found guilty on all ten counts of drug trafficking in his trial in by a Federal Court in New York on February 12, 2019. The 61 year old was found guilty by the Federal Court in Brooklyn, New York on 10 accounts may also face a life sentence in prison. El Chapo, a Mexican was arrested in January 2016 after he escaped from a Mexican prison through an underground tunnel built 5 months prior to his escape plans. El Chapo was accused of being the the ruler of all powerful Sinaloa drug cartel, which prosecutors say was was the largest supplier of drugs to the United States. Guzman has be accused of employing hit men and carrying out hundreds of murders, assaults, kidnapping and torturing. Over a period of time he became the largest supplier in the United States by the year of 2009. With his notorious fame he was listed in Forbes Magazine as number 701 richest men in the world with a fortune of estimated at 1 billion dollars. Sentencing is yet to carried out, but it may be life imprisonment.
"El Chapo"
We Watched
O_o..
Senor, Que paso?
Yo no soy de dinero. .
News Source: Provided by BBC World News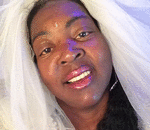 Posted By: MIISRAEL Bride
Tuesday, February 12th 2019 at 2:09PM
You can also
click here to view all posts by this author...