We canít unless God sends us help! Our help will come no differently than the Arabian race when God sent them Prophet Mohammed and for the Hebrew Israelite Jewish people the same God sent the Jewish race Prophet Moses.
The big thing here to notice is that the prophets and their people racially match. If the prophet you are claiming is not the same race that you are you are damn fool!
Those are a few idiots that cannot agree on basic truth yet they write blogs fooling themselves that they are intelligent; Mr. Reginald Culpepper, Deacon Ron, Mr. Love/Musa, Ms. Siebra Muhammad, Mr. Stanton, Brother Marcus, Mr. Reginald Goodwin, and Mr. Kamal.
None of those idiots wants what Black Americans needs most and that is sovereignty in a country of our own where we can worship God pursue life, liberty, happiness and prosperity in our own way!
The basic truth that those ass holes cannot agree on is that they cannot claim a prophet that is not the same race and circumstances as we Black Americans are.
God will never accept any of us coming in the name of a prophet of another people and not in the prophet of our own people! Our prophet is Christ Harry!
Every Black American to be saved will have to changeover and be as I am! I am the only one who has a prophet that is the same race as I am, the rest of you all have the Jewish White Jesus or the Arab Mohammad and that is unacceptable to God!
I challenge any of those idiots to a fair and honorable debate; who Black Americans are, and what our permanent solution is!
What say you!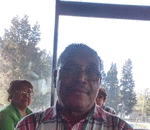 Posted By: Harry Watley
Thursday, March 14th 2019 at 4:02PM
You can also
click here to view all posts by this author...