YOUR WORDS: I told them that when you walk by faith and not by sight your faith is blind.
MY REPLY: "We walk by faith not by sight" actually is a quote from the King James Version of the Bible, from 2 Corinthians 5:7. It is a good translation. When Paul talks about the way Christians 'walk', he means 'the way we live our day to day lives…' Not Walking like the HEATHEN.
HARRY, you are WRONG in your interpretation if a person walks by faith and not by sight your faith is blind.
Harry, when you came to your computer and reached for the chair, how did you know, that chair would hold your weight? You did not know, now did you? Did you run any test on that chair before you sat down? If the answer is "NO" then you HARRY are practicing faith and you did it with your eyes wide OPEN.
YOUR WORDS: That is what Prophet Jesus when he said to his Jewish White people that they have eyes but they can't see.
MY REPLY: How many times have I put the proof before YOU that The Original Hebrew people of The Bible are "BLACK? Now here is more proof of this FACT, The Real Jews aka Slave Trade West Coast Africa and Native American Indians
http://blackinamerica.com/cgi-bin/blog.cgi?blog_id=352803
I want you to watch that presentation and lets talk about the proof about The Black Hebrews, both using The Holy Bible and using many eye witness sources from written history.
YOUR WORDS: My sight gives me faith. My sight is one of my senses that God saw it necessary to me!
MY REPLY: What would happen if you lost your sight HARRY, would you lose your faith?
YOUR WORDS: Apostle Paul is not you all guide. I am your divine guide because God made it so!
MY REPLY: He is responsible for writing many books that contributed to a large portion of the New Testament, what have you done HARRY?
YOUR WORDS: The Christian bible is not our book.
MY REPLY: Do you think that the people in The Book of Deuteronomy, Chapter 28 was White people HARRY? The Book of Deuteronomy, Chapter 28
https://www.kingjamesbibleonline.org/Deuteronomy-Chapter-28/
YOUR WORDS: We have yet to write our own stories of how God came and anointed Harry
MY REPLY: When are you going to start that work HARRY, it's been over ten years NOW?
YOUR WORDS: delivered us into our own country bringing Prophet/Christ Harry's prophecy to pass.
MY REPLY: What sights and signs did GOD give you to show our people that God is with you and you are the one who will bring our people into The Promise Land HARRY, when you already live in that land? Answer that question HARRY?
YOUR WORDS: You all don't know how to dialogue. Consider this. I said to Mr. Ron Dr. King was blind and ignorant to the fact that prophets are racially different he wouldn't have been on the wrong path claiming the Jewish Jesus as his Lord and Savior!
Mr. Ron's replied with this; Dr. King had enough sight to know what brought him to a time and place in The early 60's and the reason why. Now Harry, you doing the things of HEATHENS, by down play our God sent Black People, to make up FAKE History and achievements in this land of Freedom.
MY REPLY: In Short, Dr. Martin Luther King was killed April 4, 1968, he was fatally shot while standing on the balcony outside his second-story room at the Lorraine Motel in Memphis, Tennessee.
And you want to ask a question like: " fact that prophets are racially different? "
HARRY, think about it for a moment, you are asking me a question that you received just a little over 10 years now, to a man that has been dead some 40 years before you received that so-called revelation. I don't talk to the dead.
YOUR WORDS: Mr. Ron's reply has nothing to do with prophets are racially which is the point I am making that Mr. Ron is not addressing.
MY REPLY: I have address this question of your many times now. ALL of the Prophets in The Holy Bible, is of one Family, "THINK Black Hebrew."
YOUR WORDS: So, Mr. Ron and I are not really having a meaningful dialogue. This happens all the time and not just with Mr. Ron but with Mr. Stanton, Mr. C.R. Minister. Nothing is cohesive and coherent with you all.
MY REPLY: Harry, I have responded to you several occasions, line by line and you never respond back, you act like you can't comprehend that action of communicating before you, do you lack the skills.
I predict that you run away and will return to the dark places that you came from.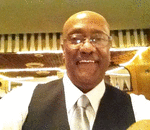 Posted By: Deacon Ron Gray
Thursday, February 13th 2020 at 8:40PM
You can also
click here to view all posts by this author...