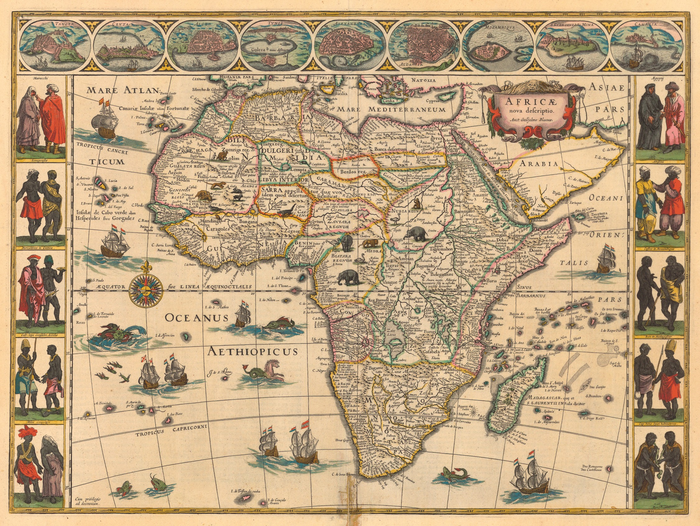 Evidence That Proves Black People are the Biblical Israelites PART 2
For starters, Israel sits on the tectonic plate of Egypt, therefore, Israel is in Northeast Africa. The area known as the "Middle East" is simply a man made, Eurocentric, term. It was given that name in 1901 by a man named Alfred Thayer Mahan. Below is a 1644 map of Africa, over 200 years before the man made term "Middle East". Notice how Israel is located in Africa on the map.
Before I found out my true identity, I was very proud of the advanced African Civilizations that were thriving before the Atlantic Slave Trade. As soon as I found out from my family's DNA test, that most of my ancestry on my mother's side, originated in Nigeria, I was beyond excited to reclaim my roots. This was until I found out the truth. Yes, the ancestors of so-called black people did indeed live mainly along the coast of West, Central , and Southern Africa. That was before they were stolen and shipped to America. Our ancestors migrated there, after being exiled from Israel.
All of the biblical evidence, DNA evidence, historical evidence, Anthropological evidence, and Archaeological evidence, proves that black people are the Israelites. Reclaiming our identity, heritage, and culture is the ONLY solution to the problems we as African Americans, and Native Americans/Latinos face. I promise you will see why by the end of the article.
Before I continue, for those who decide to do their research on this, you will come across videos of the Black Hebrew Israelites. These videos will turn you off. They are dressed in unique clothing, are very radical, preach and yell on the corners, and subscribe to the ideology that all white people are the devil. They also believe white people won't be allowed in Heaven, which is false. According to the Bible all people, no matter what color, who repent of their sins and accept Jesus as their Lord and Savior, will make it to heaven. Not all Muslims are terrorists, not all white Christians are in the KKK, and not all Israelites that accept Jesus, have the same ideologies as the Israelites who preach hate on the corner. So keep that in mind. At the end of the article, are videos of Israelite Pastors (Omar Thibeaux and Stephen Darby(R.I.P) ) who are not filled with bitterness or hatred, and have love for all races. Please start with them as you do your own research.
The name, Israelites, have become synonymous with "Hebrews" or "Jews". Today most people associate Israelites, "Hebrews", and "Jewish People" ,with the Europeans who call themselves Jewish. DNA evidence shows that most European Jewish people, are not Israelites by blood, and have no genetic connection to the land Israel. This is why they are called Jew-ish, meaning not the original or true Jews. To some this may sound offensive, but it is simply the truth. This was proven by research.
In 2001, Dr. Ariella Oppenheim and her team at Tel Aviv University released their study which found that the European Jew-ish people were mainly from Khazaria, a Caucasus country which is now called Kazakhstan, Georgia, and other names. The Khazarians converted from pagan religions to talmudic Judaism after the 8th century. In 2012, Dr. Eran Elhaik, (who is Jew-ish,)and his team at the McKusick-Nathans Institute of Genetic Medicine, Johns Hopkins University School, conducted a study, and found that 90 percent of European Jew-ish people do not have ancestry from Israel.
Thousands of years ago, before our heritage, language, and identity of so called African Americans were stripped from them, we were known as Jews. "African American", "Negro", and "Black", are the names that Europeans gave so-called "black people." The evidence will show that Israel is our true homeland.
"Jew-ish" people are Europeans that converted to Judaism and have no genetic connection to the land of Israel.Jews, Israelites, or Hebrews are the people who are genetically from Israel.
The origin of the Israelites , is based in the bible. The story goes as following. God chose the nation of Israel as his chosen people and established a covenant with them.
"For thou art an holy people unto the Lord thy God: the Lord thy God hath chosen thee to be a special people unto himself, above all people that are upon the face of the earth"( Deuteronomy 7:6).
As Evidence That Proves Black People are the Biblical Israelites PART 3 Continues
http://blackinamerica.com/content/354398/evidence-that-proves-black-people-are-the-biblical-israelites-part-3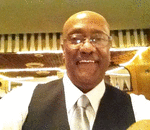 Posted By: Deacon Ron Gray
Thursday, March 12th 2020 at 12:44PM
You can also
click here to view all posts by this author...