Why not fire a warning shot?
Why keep shooting a man after he has already been hit and on the ground?
Why do officers use hollow point bullets? Because of its stopping power and the unlikelihood of the bullet going through its victim, striking innocent bystanders, which would result in possible litigation.
This hollow point bullet is designed to expand on impact, so the victim can expect life treating injuries and possible death, especially if shot more than one time.
So in my opinion this is why so many black-men are dying. Itís from the type ammo officers use, thatís the deadly force. What is your opinion?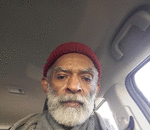 Posted By: John Ridgeway
Monday, June 29th 2020 at 1:54PM
You can also
click here to view all posts by this author...