Did not all the genuine prophets come by themselves with no earthly references and what the prophet has is NEW to the world confirming that he is a genuine prophet!
Let me explain. Although Dr. King was our race he came with an earthly reference, the White manís Christian religion. What Dr. King had was not NEW to the world. Christian is 2000 years old.
Dr. was to me like John the Baptist was to Prophet Jesus preparing my way!
Elijah Muhammad was our race too, but Elijah came with an earthly reference the Arabian peopleís Islamic religion. The Arabian Islamic religion is not NEW to the world. The Islamic religion is 1500 years old.
I too am a Black America like Elijah and Dr. King but what I have is NEW to the world and I have no earthly references. My religion is NEW. The name of my religion is LIFE. It means to have experience a divine resurrection into your own!
I canít have any earthly references since my religion LIFE is NEW to the world confirming that I am a genuine anointed prophet to my Black American people to teach and guide them home to our own country that we donít have a name for yet, but we know where our country is located; from the northern boarders of Tn. and N.C. into the Gulf of Mexico and from the middle of the Mississippi River into the Atlantic Ocean is the place of our origin that God will encourage White America to hand over to us with a free and clear deed plus 10 trillion US dollars and White Americaís greatest sin is paid in full!
I, Christ Harry is unblemished, but not Elijah and Dr. King! I am the way, the truth, and the light. No Black America can come unto God unless she or he come through me first; that is to respect God by acknowledging me your anointed prophet other wise God will not respect you! Respect works both ways.
Christ Harry!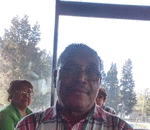 Posted By: Harry Watley
Friday, July 31st 2020 at 5:42AM
You can also
click here to view all posts by this author...