BLACK ENTERTAINERS OF TODAY SHOW NO CULTURAL PRIDE IN THEIR RACE, THEIR ANCIENT HISTORY AND THEIR CULTURAL LEGACIES. THIS HISTORICAL ONE OF A KIND PERFORMANCE RENDERED BY THE ONE AND ONLY LOLA FALANA (AS THE AFRICAN QUEEN...'NEFERTARI'),
IS A STAUNCH REMINDER THAT ALWAYS SOMEWHERE IN THE CROWD, EITHER YESTERDAY OR TODAY...IS A DIAMOND, A BLACK DIAMOND...WHO HAS TO COURAGE TO SCREAM TO THE WORLD....."YOU HAVE NOT WIPED OUT THE MEMORY OF OUR GREAT ANCESTORS WHO CREATED AND BESTOWED ON WHITE PEOPLE, AND THE REST OF THE WORLD.....CIVILIZATION. WE WILL ALWAYS CELEBRATE AND REMEMBER THEM, NO MATTER HOW MANY LIES YOUR BIBLES TELLS ABOUT THEM. WE WILL PLACE THEM IN THE MINDS AND HEARTS OF OUR CHILDREN AND THEY WILL LIVE THROUGH US, AS THE CONCEPT OF ETERNAL LIFE IS THE GIFT WE GAVE TO THE WORLD AND SO WE WILL ALWAYS CHOOSE TO REMEMBER .....THE WAY WE WERE." DON'T LIKE IT? TO BAD.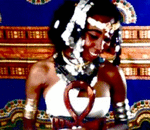 Posted By: Christine Govenor
Friday, October 29th 2010 at 1:46PM
You can also
click here to view all posts by this author...