Wow! My husband and I had the absolute pleasure to hear Michael Eric Dyson , who is University Professor of Sociology at Georgetown University, teaching courses in theology, English, and African American studies. I have seen him on TV One and some other programs, but I was completely blown away to hear him in person. Dyson and his lovely wife, were making the rounds through Black communites and churches in Florida today to help rock the vote for Obama/Biden.
Our good friends David Rucker (Florida Democratic Black Caucus) and Keith Gage (Orlando4Obama) invited us to this event across the street from their headquarters in historic Eatonville, Florida (home of Zora Neale Hurston who In 1925, one of the leaders of the literary renaissance in Harlem. Their Eyes Were Watching God was adapted for a 2005 film of the same title by Oprah Winfrey's Harpo Productions, with a teleplay by Suzan-Lori Parks. The film starred Halle Berry)
Well any way back to the Prayer Vigil/Rally, lots of local politicians, came on stage and had 3-5 minutes to give a last minute pitch for last minute voters. (early voting in Florida ended today.) But when Dyson was introduced everything stood still under the trees, in the grassy field in historic Eatonville. Dyson told us of his many stops in Florida this weekend and encouraged the crowd not to let the rain, thunderstorm or even a hurricane keep us from voting on Tuesday (if we hadn't already done so.) He mentioned that some people regard Obama as the Messiah. Reminded us that he (Obama) is not the Messiah, but he is a man of integrity, compassion, etc. If we as a people can stand in line for a Rap concert, or R&B concert, a comedy show, to buy the latest electronics, etc. then we should be prepared to stand in line to vote if it takes all day. Dyson's lovely wife said that if we need to take the day off from work on Tuesday, call in sick whatever! Do not let this historical day slip through our fingers. Just because we see all of the Black and Hispanic faces on the lines at the polling places, don't be deceived by what you don't see. The Caucasians are voting via absentee ballots or voting in predmoninantly white areas. You can't see the wind, but a large enough gust of wind can blow over a house. We were told not to become complacent and think this is a shoe-in for Obama.
Then the Professor of Sociology at Georgetown University broke out into a rap that brought the crowd to a roar of applause, whistles and screams. (Ok granted there were about 100 people total, because the event was outdoors and it had been raining pretty hard on and off all day,) but every person there stopped in their tracks to hear this scholar's rap. Ok, I admit it I am over 50, not much into rap, have heard it while my 20-30 something age children were teenagers. But this man was truly amazing. His ability to relate to every age group in that crowd with this encouraging rap.
So now I realize that my husband forgot the digital camera, the video camera, so all we had was his cell phone camera. So the only photo I have is on his cell phone and I hope he doesn't forget it's there and delete it or something (smile.) My husband is one of those men who says, I only need a cell hone to talk on. I don't need all those other features.
The bottom line is if you didn't or couldn't early vote where you live, please make sure you don't miss the opportunity to be a part of this historic event.
Peace! Darlene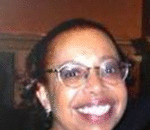 Posted By: Darlene Robinson
Sunday, November 2nd 2008 at 7:20PM
You can also
click here to view all posts by this author...