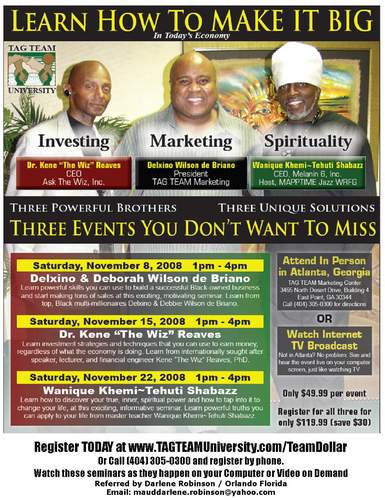 Iíve been telling everybody that I know about these seminars for weeks. This past Saturday, TAG TEAM University delivered the first in their series of three November seminars that was broadcast over the Internet and live in Atlanta. It was awesome! Black people learned how to market, promote and make money during this economy.
The next seminar will show you how to make that money work for you...giving you a jumpstart on your road to generational wealth. At the end of last week's seminar, Dr. Kenneth "The Wiz" Reaves spoke about the seminar he will be teaching THIS SATURDAY about how to make it big in today's economy by INVESTING. Because no matter what is happening in todayís economyÖsomebody is making money. Why canít that somebody be YOU!
Kene' "The Wiz" Reaves, a Morehouse College graduate, is an internationally sought after speaker, lecturer, and financial engineer with over 15 years of experience. His clients include some of the most successful celebrities, Fortune 500 companies, and various Caribbean governments.
Visit
www.tagteamuniversity.com/TeamDollar
to watch this video and to see the rest of his bio.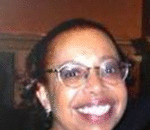 Posted By: Darlene Robinson
Monday, November 10th 2008 at 11:27PM
You can also
click here to view all posts by this author...