DryerBuzz Lunch & Stream "The Expectation of Change" with Special Guest
We're Making History Again
Atlanta, GA – DryerBuzz.com will host its 2nd Lunch & Stream, "The Expectation of Change," hosted by Yalanda Lattimore on Thursday, November 20, 2008 Noon to 2PM in the wake of a historic election.
Where: DryerBuzz "Boardroom"
City View - Cumberland
3330 Cumberland Blvd., Suite 500
Atlanta, Georgia 30339
Yalanda's goal to bring live dialogue to DryerBuzz will once again take its readers, listeners and viewers inside the headlines and to the source.
Special invited and confirmed guests including Elizabeth Omilami (daughter of Civil Rights crusader Hosea Williams), Pastor Emanuel Coleman Sr (Living Word Ministries Int'l of Marietta), Dr. Shai T. Hall, Atlanta Ultimate Makeovers, Dwan Abrams bestselling author of Married Strangers, Divorcing the Devil and you will join for lunch and dialogue on "The Expectation of Change," which will stream live via
www.DryerBuzz.com
Noon to 2PM November 20th.
Readers are invited to join news makers for lunch or watch the stream live participating via chat. Immediately after the live stream, video of the historic conversation will be available on demand.
In October for the soft kickoff of DryerBuzz Lunch & Stream, we were treated to a dynamic conversation and an inside look into True Colors Theatre with special guest Broadway play write Todd Kriedler who recently finished the play adaptation of "Guess Who's Coming To Dinner," which heads to Broadway. He also shared his experience of working with noted historic play write August Wilson.
Limited space available for November Lunch & Stream - click here to RSVP. For special guest consideration contact us immediately. Sponsor opportunities now available - click here.
November Lunch & Stream is brought to you by
www.SaturdayEntrepreneur.com
and Red Carpet Events.
Watch Live or On-Demand:
http://www.dryerbuzz.com/dryerbuzztv/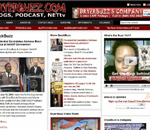 Posted By: yalanda lattimore-DryerBuzz.com
Monday, November 17th 2008 at 11:52PM
You can also
click here to view all posts by this author...