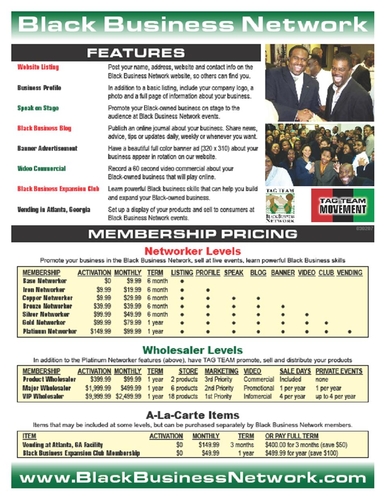 On Sat, 2/21/09, TAG TEAM launched the new Black Business Network 4.0. The new program and website is phenomenal. The Black Business Network will be THE PLACE that Black people all over the world come to, in order to find Black-owned businesses. There are already over 22,000 Black people committed to buy Black everday who are members of the online community
Watch the Broadcast of the Launch Party Right Now! TAG TEAM recorded last night's event and the taped broadcast of this event is available to view right now! You will be able to watch the launch event online. Although there is no fee to watch the Internet broadcast, you must be a member of the online community to have access to view. Just visit
www.tagteammarketing.com/TeamDollar
to set up your free account, then click on the Black Business Network banner in the upper left hand corner. A window shoud open for you that has a button that says Play Video.
If you are a Black Business Owner, Entrepreneur, Network Marketer or someone dreaming of starting a business, just sit back and watch one of the greatest online events for Black people you have ever seen right now! This program lays out the Economic Stimulus Package for Black People.
"I don't have to apologize to anybody for being Black, because God almighty knew EXACTLY what he was doing when he made me Black!" "God and nature first made us what we are, and then out of our own created genius we make ourselves what we want to be." - Marcus Garvey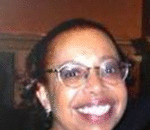 Posted By: Darlene Robinson
Sunday, February 22nd 2009 at 8:38PM
You can also
click here to view all posts by this author...