Disney to feature its first black princess... but critics complain as she falls in love with a WHITE prince.
OH BOY LET THE COMPLAINTS BEGIN! SEEMS LIKE FOLKS DON'T LIKE THE INTERRACIAL ASPECT IN THE MOVIE.
Move over Snow White. Make room for Disney's first black princess.
With America's first African-American president in the White House, Disney is counting on an African-American princess to be a big hit in Hollywood.
But even though The Princess and the Frog isn't released until later this year, it is already stirring up controversy.
For while Princess Tiana and many in the cartoon cast are black – the prince is not.
Which has led some critics to complain that Disney has ducked the opportunity for a fairytale ending for a black prince and princess.
Disney's first black princess, Princess Tiana - and the 'white' Prince Naveen
While some have hailed Disney's decision as a reflection of melting pot America, others say the company is sending out a mixed message.
Although the black princess's love interest in the new animated musical is called Prince Naveen of Maldonia and is voiced by a Brazilian actor, he looks more white than black in photographs from the film that Disney have released.
Since Snow White and the Seven Dwarfs in 1937, all of Disney's princesses have predominantly been white.
A native Indian princess was featured in Pocahontas and Jasmine in Aladdin had a Middle Eastern appearance.
Princess Tiana in a scene from film, based on the tale of The Frog Prince
The race row hasn't yet hit the mainstream because the film's release date isn't until late in the year, but Internet chat rooms and blogs have been abuzz with complaints.
One disappointed fan wrote (sic): 'I think it's sad that he is white because its saying that black love isn't good enough and that black men could never be princes.
'Disney had the perfect chance to make its first black prince, but instead it decided to go the controversial route.'
Another complained (sic): 'I am very disappointed and I wished Disney had made the prince black,(and the ironic thing is the prince in the movie is white but the evil voodoo villain is voiced by a black actor and is black).'
Since announcing their plans for the first black princess in 2006 the production of Hollywood studio's 49th animated film has been dogged by racial controversy.
Originally called The Frog Princess, its heroine was to be a chambermaid called Maddy working for a spoilt white debutante in 1920s New Orleans.
But the storyline sparked a backlash from critics who claimed it reinforced prejudice and demeaned black people.
The princess's original name was perceived by some to be a stereotypical 'slave name' and she was also a maid working for a wealthy white boss, which was criticised as being racially insensitive.
Even the New Orleans setting for the film was questioned as it had overtones of voodoo and slavery.
Disney has insisted its choice of a black princess was part of a policy to give characters as much diversity as possible.
As all princesses do, Tiana wishes upon a star in the film which is due for release later this year
In the past, founder Walt Disney has been accused of being racist, particularly against Jews and blacks.
One extreme example often cited by his critics was in The Jungle Book which was made in 1964 at the height of the civil rights movement.
In one scene, Mowgli is told he can't live with Baloo the bear because different species need to keep to themselves.
Disney also ran into trouble when creating the character of Pocahontas in 1995 for the retelling of the encounter between an English settler and a Native American princess.
Animators were accused of modelling Pocahontas on model Naomi Campbell, although they said they had used Native American faces as their inspiration.
Tiana looks doubtful as Naveen - newly turned into a frog - puckers up
Anika Noni Rose, the black actress who voices the character of Princess Tiana, has insisted that people should look beyond the colour of the character.
For more information on the upcoming film, and to see the trailer,
click here
Click on the thumbnails below to check out stills from The Princess And the Frog and behind the scenes photos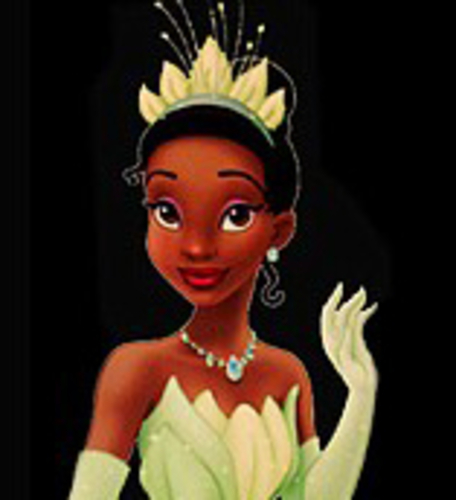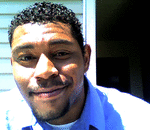 Posted By: Devon Marshall
Tuesday, April 14th 2009 at 11:17AM
You can also
click here to view all posts by this author...