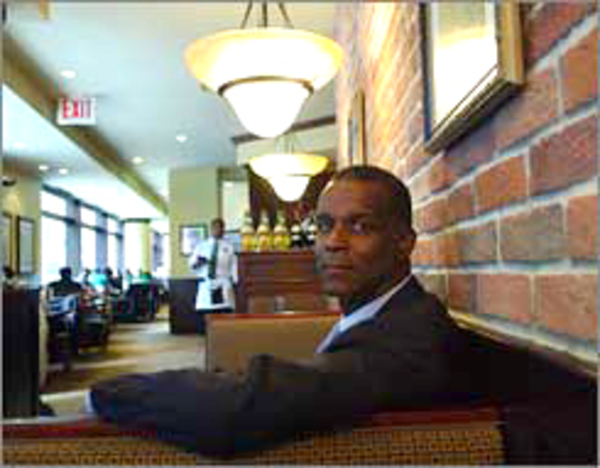 From mean streets of Watts to the king of casual dining
Clarence Otis Jr., CEO of Darden Restaurants (DRI), will never forget the Sunday drives his family took through Beverly Hills when he was a boy.
Each began and ended in Watts. In 1965, the South Los Angeles area was the scene of riots that killed 34 and injured more than 1,000, but to Otis, who was 9 at the time, it simply was home.
Otis' father, a janitor, took his family to Beverly Hills not to gawk in envy. It was his way to show the kids another world was out there, and let them know it wasn't out of their reach.
"Those drives showed me how the other half lived," Otis recalls. "They made me believe another life was possible."
Was it ever.
Two years ago this month, at age 48, Otis was named CEO of the largest casual-dining restaurant company, overseeing such mega-brands as Olive Garden and Red Lobster. He's one of only a handful of African-American CEOs running Fortune 500 companies. At home in Orlando, he and his wife, Jacqui, are amassing one of the finest collections of African-American art in the nation.
Life is not perfect in restaurant land, however. Like most of the $70 billion casual-dining industry, Darden has taken a recent hit from slumping sales and declining customer counts.
Consumer uncertainty has driven the industry downturn, he says. People still are befuddled about too many things, including energy costs and mortgage costs. Even as gas prices decline, Otis knows that many cost-conscious consumers will not soon rush to eat out. Besides eating out less often, he says, diners are less patient with restaurant gaffes such as cold food or slow service.
This industry turmoil makes it all the more notable that Otis is considering creating a new Darden brand to try to evolve into another restaurant powerhouse.
"Darden is a superbly managed company," says John Glass, restaurant industry analyst at CIBC World Markets. But even in the best of times, "It hasn't been very successful at creating new brands."
New brands propel growth. So, just two years after being named CEO, much is expected of Otis. With sales last year of $5.7 billion, Darden already is the only restaurant company in America to own two such prominent casual-dining chains as Olive Garden and Red Lobster. Creating a third mega-brand has been a tough nut for the company, and for Otis.
Its Smokey Bones Barbeque & Grill chain, where Otis was president from late 2002 into 2004, has disappointed of late, posting same-store sales declines of 3.7% last year. Also not a home run has been Darden's Bahama Breeze Caribbean food chain.
It's too early to judge Darden's newest chain, Seasons 52, which features pricey, better-for-you, fresh food. The six-unit chain, with no entrée over 475 calories, has done well in Florida. But with meals averaging $35 per person, growth will likely be limited.
That makes it likely a third mega-brand would have to come from an acquisition. A prime candidate would be a successful small, regional chain.
"We're doing extensive research on possibilities," Otis says, but he declines to name any. Any acquisition would probably have a modest 25 restaurants, or so, he says.
Lynne Collier, senior analyst at KeyBanc Capital Markets, says some possibilities include Kona Grill (known for its island twist and variety of sauces), Granite City Food & Brewery (known for its brew pubs) and B.J's Restaurants (known for Chicago-style pizza and microbreweries).
Positive thinking
For Otis, who dresses impeccably, smiles readily and can burst into gales of laughter, life at the top of the restaurant world is a far cry from his roots in Watts. There, he learned not only how to avoid danger but also to aspire to better things.
Much of that was inspired by his father, Clarence Otis Sr., who labored for years scrubbing floors and shampooing carpets. On occasional Sunday afternoons, he'd load his wife, two sons and two daughters into the family Buick and drive past the estates in Beverly Hills.
"I wanted them to see what was possible," recalls Otis, 74, who dropped out of high school in the 10th grade. "You could live in Watts but still think positive."
During those Sunday drives, Clarence Jr. rarely said a word, his father recalls. But the lesson took.
Even before then, at age 5, when Clarence Jr. watched cartoons on TV, he often drew remarkable likenesses of the characters, his father recalls, even though he had no artistic training.
Soon, he started spending hours at the library, his father says.
When he was in high school, a badly fractured leg landed him in the hospital for six weeks. His father recalls the words of a tutor who visited Clarence Jr. each day at the hospital, "I think he's tutoring me. He knows the answer to everything I ask."
Survival skills
The challenges of being raised in Watts were real. There was gang activity at the time, though it was not drug-infested, Clarence Jr. notes. Growing up there, he says, he learned to interact with everyone.
He had friends who were scholars and others who became gang leaders. A few friends were killed in gang violence.
During the Watts riots, his parents wouldn't let him and his siblings outside. After that, he had to learn how to make do on his own.
"You kind of have an urban street map in your head," he says. "You just try to avoid the places where gangs hang out."
Almost every black, male teen in Watts knew one drill only too well: being regularly stopped by cops and questioned. Otis recalls being stopped "several" times a year. He certainly didn't like it, but he had little choice but to put up with it.
The whole neighborhood put up with a lot. There were few public services in Watts then, including no public transportation. "You either drove, or you didn't get around," he says.
But Otis had options. That's mostly because his parents demanded good grades. And a caring guidance counselor steered Otis toward a scholarship at Williams College, a liberal arts college in Williamstown, Mass.
"A lot of people reached out to help me," Otis says. "Positive discrimination happens, too."
Otis quickly became a leader. That doesn't surprise Carl Brooks, CEO of the Executive Leadership Council, an organization of African-American executives. Brooks has seen Otis in action.
Two years ago, Otis attended a council training session aimed at increasing the number of African-Americans on boards of Fortune 500 companies.
"He took leadership of the presentation," Brooks recalls. "He was more prepared than the presenters."
Otis seems to always be prepared. He earned a law degree at Stanford. From there, he quickly landed on Wall Street at the investment firm Chemical Securities (now JPMorgan Securities). He joined Darden as treasurer and was soon named chief financial officer.
His big opening came in mid-2004 when Joe R. Lee, then CEO of Darden, announced plans to step down. Brad Blum, former president of Olive Garden, had previously left to join Burger King as CEO. That opened the way for Otis.
At the time, Otis was president of Smokey Bones, where he had been sent to get operating experience.
He'd like to make some Smokey Bones moves over again. His biggest mistake, he says, was expanding the chain too quickly.
In the coming months, Smokey Bones will test a new name and a broader menu in at least one market, he says. Even if that works, there are no plans to expand the chain. Nor has he considered shuttering it, he says.
Looking ahead
There are plans, however, to update Red Lobster. In the works: a new menu design, several new menu items and a "Today's Fresh Fish" program with daily chef specials. An ad campaign touting the new menu is in the works.
Then, there are the aging boomers. Boomers are casual dining's lifeblood. Otis says Darden will attract the next generation of 50-year-olds even as it also tries to lure younger diners. Most recently, Otis says, the chain began selling a variety of flavored teas and bottled waters to appeal to younger diners.
But the business isn't in Otis' blood. The last time he worked in a restaurant was a summer in college when he waited tables at a restaurant at Los Angeles International Airport.
Growing up in Watts taught him something more important: how to size up all situations. That skill has literally taken him to the top of Corporate America's food chain.
"You learn how to interact with a broad range of people, how to observe and listen,"
he says.
And, once in a while, how to win those fights that matter most.
"He'd occasionally get in fights at school," recalls the father of his son. "But I don't ever recall him coming home beat up."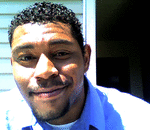 Posted By: Devon Marshall
Tuesday, August 11th 2009 at 11:12AM
You can also
click here to view all posts by this author...