DryerBuzz & Company: Join us for the LIVE Great "Good Hair - Don't Go There" Debates. We'll get to the root of the problem.
We got good hair but do we have good cents? DryerBuzz LIVE has to come back on this one. The movie, Good Hair by Chris Rock, not to be mistaken by the documentary currently suing the movie, is in theaters. We're going to see it. We'll wait till everyone is done in salon and come at you Sunday for a great debate. Plus there's a boycott planned for the "do-it-yourselfers." Who's got the buzz? DryerBuzz has the buzz behind the buzz with you in The Great "Good Hair" Debates.
Listen live Sunday, october 9, 2009 6PM (time subject to change). Call in to join debate panel (646) 652-2642
Listen live link:
http://www.dryerbuzz.com/category/podcast/...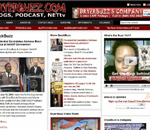 Posted By: yalanda lattimore-DryerBuzz.com
Sunday, October 11th 2009 at 4:35PM
You can also
click here to view all posts by this author...