For Immediate Release: October 13, 2009
Contact: Shonika Proctor
Phone: 202.580.8336
National Black Teen Empowerment Expo to Host First Benefit Concert at the Vintage Inspired Triad Theatre, NYC
Washington, DC- National Black Teen Empowerment Expo in collaboration with R.E.A.C.H. Communications (reachspeakers.com) and Three Sixty Total Solutions (360totalsolutions.com) is hosting a benefit concert to create public awareness for the 1st Annual National Black Teen Empowerment Expo and its community initiatives and impact. The concert will be held on Sunday, October 18, 2009 at 7 pm and will be hosted at the Triad Theater, NYC, which has generously agreed to sponsor the venue.
Through music, comedy and spoken word poetry, your heart will be filled with true inspiration as some of New York's emerging and talented performers come together for one night to share their intimate stories and how they have been able to overcome life challenges, confront their fears and fully play in their power.
"This first effort will help raise funds to support as many as 10 other local (NYC) NBTEE events between now and June, 2010," says R. Lee Gordon, "that are vital in our resolve to engage community members and teenagers, and connect to our community resources and concerned citizens who would like to be a part of the upcoming expo and our overall progress in helping more of our teens believe and succeed."
Featured artists and performers will include: Concert Pianist, Natasha Randolf, Broadway Performers, Marcus Paul James and Crystal Montee Hall, Recording Artists Taharqua Patterson and Anthony Mark Booth, Child Actress Jordan Taylor and Spoken Word Artist Javier Sanchez.
The Triad Theater is located at 158 W. 72nd Street (near Broadway) New York, NY C The event starts at 7 pm and tickets are $10 at the door. The venue accepts cash only and has a two drink minimum. All proceeds will to benefit the National Black Teen Empowerment Expo.
About NBTEE: Designed to enrich the hearts, minds, bodies and spirits of today's male and female teenagers between 12 and 19 years of age, the National Black Teen Empowerment Expo (NBTEE), a multi-day family friendly event, was created to expand perspectives, evoke critical thinking and create greater awareness of fulfilling 'life path alternatives' for urban youth. The intended outcomes are to narrow achievement gaps, close the digital divide and diminish the high school drop out rate. The 2010 expo theme is 'a work of heART' and will feature a combination of empowerment workshops, inspirational speeches, musical performances, short plays, spoken word and film. Strategic partnerships can be explored at
www.nbtee.org
###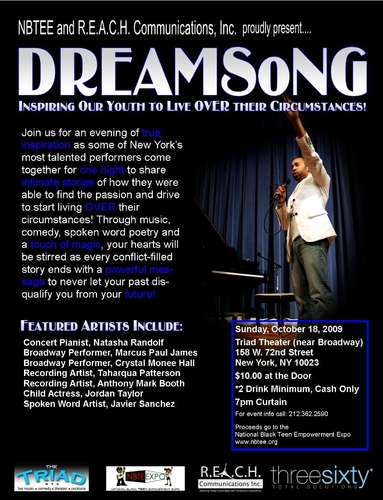 Posted By:
Friday, October 16th 2009 at 3:29PM
You can also
click here to view all posts by this author...