UniTee Design is a proud sponsor of The NBTEE and its Youth Movement Coalition
The National Black TEEN Empowerment Expo (NBTEE) is building a national youth movement, community by community, to collectively discuss, determine and deliver better ways to reach and teach today's young generation. We believe our strength in numbers will also mean social, economic and political power that can help our children's needs be a greater fulfilled priority.
Youth Movements are coalitions of concerned citizens and committed groups working together to improve the quality of life and learning for (and with) our children, teens and young adults.
If you'd like more information about our efforts, email us at info@nbtee.org, or call 734.395.3079.
Please participate in these events if you can bring value to them and / or benefit from them. Also, share these flyers among your circles of influence with our greatest gratitude.
The Better Detroit Youth Movement and Infinite Scholars proudly present The 2nd Annual Detroit Scholarship Fair (on September 22nd). About $30 million was awarded to junior and senior high school students throughout Southeast Michigan at last year's fair.
The 1st Brooklyn Teen Hall Meeting (on September 24th) will provide a powerful forum for our young men and women to share with us some of the challenges they face, let them know and see there is a caring and concerned audience of community here and committed to helping them rise above and overcome these challenges. This monthly event also provides us a wonderful opportunity to consistently connect participating youth to vital resources that can help them succeed in school and life.
"The best we can do for our young is inspire and guide them to be their best."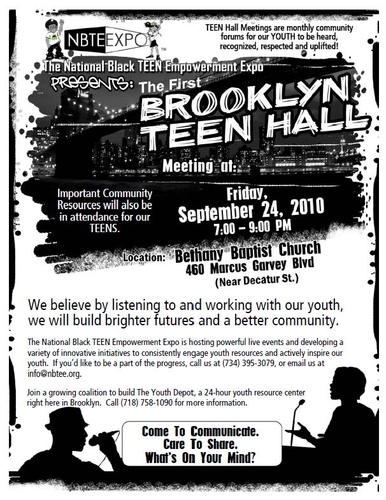 Posted By:
Tuesday, September 21st 2010 at 6:06PM
You can also
click here to view all posts by this author...