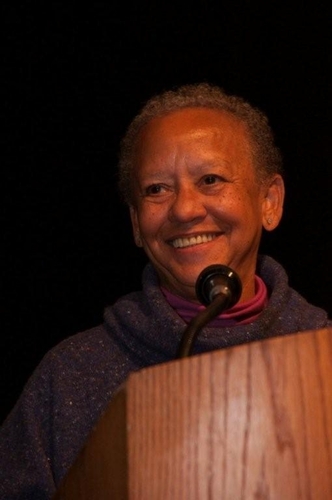 Described as a writer who presents the truth the way she sees it, widely read and known poet and Virginia Tech professor Nikki Giovanni gave Rochester Institute of Technology's Dr. Martin Luther King, Jr address by calling on us to study the effect that slavery had on those who suffered from it rather than the European perspective of the slaveholders.
"People have the power to make a difference in this world " Giovanni explained. "When you talk about slavery in this country, black folks are ashamed. White people are made to feel guilty. I'm not ashamed of anything. It is amazing to be black in this country.
"Africans had their own culture, customs, and language and had to keep their minds while enduring the cruelty of what slavery holders put us through.They could put their hands anywhere they wanted on us. The auctioneers would grease us up so we looked healthy. God though is a forgiving God. When people say they are going to get a hamburger from McDonald's, it's different from people who said they were going to Africa to get slaves. Europeans came to Africa and they set traps and dug holes...they caught us."
A graduate of Fisk University, Giovanni explained that a black woman, Ella, saved the university by soliciting money through song at the suggestion of the college's white administrators. They criticized what she was trying to do, but didn't know how to raise money themselves," explains Giovanni who at five foot two stands two inches taller than her friend Rosa Parks.
The Fisk University Singers sang "Cabin" or Negro Spirituals.The group gave away the money they had raised to survivors of the Great Chicago Fire because there were people worse off than them. Ella decided if they were going to go down
in their fund-raising efforts: they would go down hard and switch back to singing cabin songs. A performance of the forgotten song, Steal Away, in front of royalty and done on five-part harmony, resulted in the choir receiving 50,000 pounds. "When you offer what you have, we should politely take it, and not debate it."
The Civil Rights Movement, according to Giovanni, happened 61 days after the death of Emmitt Till."When you talk to people my age we remember the days of segregation. That event was just a mean and defining moment of our fight for freedom. "Rosa Parks and that era of segregation was when you put your dime in the front of the bus and had to get off it to re-enter the bus from the side door.The bus driver might run off with your money because he knew there was nothing you could do to fight them; he knew people would have to take the whole day off from work to fight them. No one had time to do that."
Giovanni believes if Dr. King were alive today: he would be a rapper."He was a very modern and progressive man. He would have a tattoo on his arm," she continued. "America was a smug nation. Back then, we had jobs and manufacturing
happened in this nation." she chuckled. "It's true." She then read her King-inspired poem, "In The Spirit" and left to a thunderous standing ovation.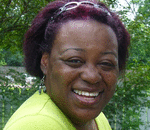 Posted By: Marsha Jones
Friday, January 28th 2011 at 12:15PM
You can also
click here to view all posts by this author...