March is Women's History Month. It's also International Women's Day. Well, it was yesterday. Before kids, it was a celebration that I attended and served on a committee to highlight the achievements and changes made by and for women.
While women have made strides in obtaining safe working conditions and the glass ceilings in professional employment have been shattered: we still have so much work to do. Women still make less money than men, childcare and its costs are still an issue, health insurance, and work hours, as well as transportation and benefits.
I am so grateful to the women before me (Sojourner Truth, Harriet Tubman, Eleanor Roosevelt, Lady Godiva, Susan B. Anthony, Mother Teresa, Ida B. Wells, to mention a few) who made work conditions and child labor laws "news" to those who didn't know this type of thing existed. These women refused to "be quiet". As a result, they made history and helped shape and change our world.
International Women's Day may not be today's top news story. However, it's a story that needs to be told and remembered. The women who have come after me such as: Barbara Walters, Oprah Winfrey, Cicely Tyson, Debbie Allen, The Williams Sisters, Nikki Giovanni, my mom, and Margaret Thatcher) broke the rules and carved out a spot in today's world. I thank them for that because they showed me: I can have it all. It may take me a while to get there, but I can get there. My wish is that their dreams, visions and desires take them to their BIG dreams and one day, they may be trailblazers. All they need to know is that they can do it with hard work and determination. Live your dreams, my darlings. Well-behaved women rarely make history. (wink) I'm thankful for that.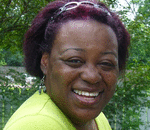 Posted By: Marsha Jones
Wednesday, March 9th 2011 at 4:38PM
You can also
click here to view all posts by this author...