This is week three of the Better U Program and this week's focus is about moving. As a stroke survivor, moving still continues to be a critical point in my recovery process. My OT (Occupational) and PT (Physical Therapy) therapists developed plans for me to get my strength and flexibility back. As I think about this program's goals, I remember that "staying still" was never really an option for me.
My doctors and therapists wanted me back on my feet. Another aspect of my PT therapy revolved around me getting back into some kind of bowling shape. I told Brian that I didn't care how he did it, but somehow I had to be able to throw my ball down a lane by September. He gave me at home exercises to do. Brian encouraged me to dream BIG. I started my therapy in April and he had until Labor Day weekend to get me ready.
We did more than just walking straight lines and strengthening exercises. He helped me work on my balance. A fellow Canadian hockey player, he taught me how to throw a lacrosse ball and how to get up from a fall. As the mother of two very active lacrosse players, he had me fitted with a leg brace so that my hamstring could get stronger and I could walk on grass (without fear of turning over my ankle) and to attend their games. Brian told me that is was OK to ask teammates for help with putting on my new bowling shoe. The fact that I was up and out was good for me. He told me to put my pride aside and to ask for help, if I needed it.
Many so-called friends said I should just rest and that my kids "shouldn't play" and "quit" lacrosse this season. My answer was "No." As their mom this was my reasoning: why should they quit a sport they love because I got sick.I wanted them to see that I wasn't a quitter and I was fighting hard to reclaim parts of my old life. Other parents heard about my stroke and helped take my daughters to practice, games and tournaments. I was their biggest cheerleader.
Besides the physical activity of lacrosse, I bowl with my teammates every Tuesday night for the past 22 years. I wasn't giving that up. Currently, we are in first place and my bowling style has changed. Brian showed me how to throw my ball from the left side of the lane rather than the right. I'm right-handed and throw my bowl with one hand using a five-step approach. Other teams are shocked at my strength and split conversion ratios.
This year, I decided to bowl in the summer to get my strike ball back and increase my endurance and stamina. I'm also going to be working on my arm strength, my arm's range of movement, and take part in body massages to get my muscles back in shape.
My only other adjustment is that I'm restocking my pantry shelf's with healthier foods. I'm getting rid of the "white" starches and replacing it with brown substitutes. Bye bye white rice. Hello brown. My family did this the first time I came home from the hospital. Now it's my turn to take it a step farther. I have ordered free cookbooks with recipes for diabetics and heart healthy foods.
My children are a part of my plan. I don't want them to go through what I went through health wise. Now that I know stroke and diabetes run in our family history. I have made healthy food substitutions for them. At first, they fought me on the changes, but are now enjoying the substitutes.
I've thought about this long and hard. While I plan on increasing my summer activity via walks around the neighborhood, gardening, and housework; I'm determined to educate my girls on eating healthier and the importance of staying active. This is a battle that I want to win.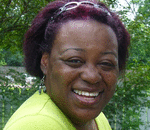 Posted By: Marsha Jones
Wednesday, March 9th 2011 at 4:57PM
You can also
click here to view all posts by this author...