Ever since I had a stroke, I've had to know my numbers when it comes to such things as weight, blood pressure, blood sugar, cholestrol, body mass index, and certain medication doses. Week 5 brought this home to me and then some. As far as meal calories go, I try consume about 1,500 a day. That's down from 2,500. I drink lots of water and ice/green tea.
As a result, I lost weight with a reduced/changed meal plan and aggressive (on my part) physical and occupational therapy. I began to eat more salads, more veggies, and learned to take advantage of the "free" calories from the green veggies. I changed the length of not eating in between meals. And got family friendly snacks, the whole family could enjoy. During this period, I had to re-learn how to walk up and down stairs, get in and out of my car, wash dishes, cook and prepare meals, and other assorted "mommy duties."
The one thing I am thankful for is that I'm NOT an emotional eater. If anything, I'm an emotional sleeper. When I'm stressed out, I tend to sleep more. My day begins at 5:30 a.m. My teenager has to be at her bus stop by 7 a.m. and doesn't always hear her alarm ring. When she's getting ready, my writing day begins. I need a good six hours of sleep. Once she is on her bus, it's time to get my second child up and at them. I have to eat by 11 a.m. or I get horrible headaches.
My primary doctor, Dr. Lisa Harris, knew I could reduce my stress level through diet and exercise. I wish she could have prepared me for my biggest stress: being the mother of a teenage daughter. lolol There is no warning or preparation for this. I have to pick my battles carefully and have developed mechanisms to keep my blood pressure in check, to walk away from fights, and block her out.
Dr. Lisa thought I would cheat and not eat right with this healthier approach to eating: I didn't. I'm still on my getting-back-to-normal path. When medical professionals didn't know if I would walk or return to my home again: I knew differently and proved them all wrong. I knew if I cheated on the diet: I would be hurting myself. I vowed I would do whatever it took to get better. I stuck to this promise. I've been hurt enough.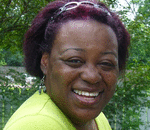 Posted By: Marsha Jones
Friday, March 18th 2011 at 4:42PM
You can also
click here to view all posts by this author...