I don't know if you saw the show, "Who Do You Think You Are?" spotlighting former Commodores front man and Grammy Winning recording artist Lionel Richie? I was moved to tears...literally. Without giving away too much, his search for his grandfather was filled with surprises and a incredible source of pride. The viewer learns the answers to family secrets never revealed. Richie also finds out who he bears a resemblance to, and discovers what family members did to ensure a legacy for his great-great grandmother and her child.
In this episode we meet Richie's sister, his two youngest children, his grandmother and numerous historians. You'll also learn about new organizations that have died out over the years, but served an important mission for people of color.
I really enjoyed this profile because I learned that parents in the 30s and 40s didn't prepare their children for the concept of The Klan. Parents protected children and shielded them from the horrors of the truth and still stressed the importance of education. I enjoyed learning about Richie's early musical success, favorite musical collaborations, his family tree, and his joy of being a father and a grandfather. For someone in his early 60s, Richie is living a satisfied life and his contributions to our world via music and giving back. Not only does he look good, but the segment just reminded me how special he really is. I was delighted he found all the answers he was looking for.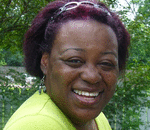 Posted By: Marsha Jones
Friday, March 18th 2011 at 4:56PM
You can also
click here to view all posts by this author...