The days are longer. The nights are shorter. Yet, I'm still tired. I went to bed an hour earlier. Set my clock forward. Did all of this because I had to get up early the next day to interview a write-in, African American woman, mayoral candidate in our Upstate New York community.
I warned my children to go to bed early because we're losing an hour. They didn't listen. While I got up at 5:30 a.m. to make the 8 a.m. radio show: they slept not realizing what they were putting their body's through. My youngest went to bed early the next day and she was out for the night. Her sister crashed and burned as well. I had two full days of peace and quiet. lolol
I love seeing more sun. I enjoy hearing the young nest of birds chirping early in the morning. I peeked and saw a nervous momma bird watch me as she feed her four babies. My youngest complained that "it was too early for her to be chirping so loudly." She said: 'She (my daughter) needed more sleep."
The crocouses are out. In my backyard, it is great seeing the white blossoms appear and NO snow on the ground or the grass. I didn't need a coat. Just headed to my car in the garage.
It seems like it took forever for this day to get here. The first day of spring is a few days away. It will take my body time to adjust to more sunshine. I'll be tired for a few days. I will enjoy coat-less weather. And not having to warm up my car. Yes, my skirt hemlines will rise and breaking out my sandals. Cute shoes are in my future forecast. And there will be music. Sweet music everywhere. With these warmer temperatures, it was worth the wait.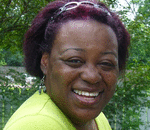 Posted By: Marsha Jones
Friday, March 18th 2011 at 6:04PM
You can also
click here to view all posts by this author...