At least that's what Irish people say. My response back: I was Irish by marriage. Needless to say, I have people who challenge that. well, I was. My maiden name is Jones. When I was married, it was Collins. You can't get more Irish than that. Unless, I put an O apostrophe before my last name.
My children have their father's last name and different first names. One name is British; the other Irish. All I know is that when their teachers hear their names and meet them, they expect to see two white girls in their classroom as opposed to two well spoken and educated black girls. As my friend, Ruby said: "Your children's names are deceiving. I love that." No false expectations or pressure on them.
We all know how this name game came about: slavery. I don't know the Collins family history, but I will one day. Somewhere in the history, we know that the slave owner had the last name Collins. We were his property and we carried the name. Like most Black Americans, there was a huge amount of cruelty and horror our ancestors endured. People were whipped, sold, families separated, killed and women were raped. I'm sure our ancestors were bred like cattle and worked from sun up to sundown.
It's a fact I'm not ashamed of. I'm proud that the family survived and hopefully thrived. Today, my kids are getting a good education. Something previous generations might have enjoyed.
So when it comes to St. Patrick's Day, it is a day that I celebrate. The Irish survived all sorts of poverty and discriminate. They were often dubbed as "drunks." While they celebrate their success and freedoms, I celebrate "mine" too. Awww...the luck of the Irish. (wink)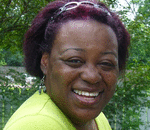 Posted By: Marsha Jones
Friday, March 18th 2011 at 6:41PM
You can also
click here to view all posts by this author...