Recently, poet, author, and writer Quincy Troupe was in Rochester, New York, to celebrate the creative genius of Garth Fagan. The two men sat down to discuss how visual arts, literature, performing arts and choreography are coming together to interpret and create new works among themselves.
Troupe explains that he and Fagan initially met when (Garth) had a dancer interpret two of his poems through dance. "Latin American artists have been doing this type of artistic collaboration for years. The United States is falling behind," he continues. Troupe admits that the US is a huge consumer of "white bread" artists and that there is nothing wrong with it. In terms of areas in the US open to different ideas: he cites New York City, LA, San Francisco, and Rochester, NY because of Fagan.
"Garth is an innovative choreographer. He's the man and a risk taker," continues Troupe, who retired from teaching at the University of California at San Diego in 2006. His book, Miles and Me was on the New York Times Best-Selling list. A movie will be released in November 2012. "If Garth Fagan weren't a black man, I think he would be much more appreciated."
Influenced by Miles Davis and Pablo Piccasso, Troupe grew up in St. Louis, Missouri, and described it as a place not meant for visual or musical artists. A self-taught writer, Troupe has traveled extensively through the Caribbean credits this area for a recent explosion in the arts. "Haitians and Cubans provide a lot of inspiration for the pieces we are now discovering. It is very forward looking and thinking. You see so much of the culture in the work. Art reflects culture. In the US, art often reflects money. It doesn't reflect art and isn't great art. Sometimes it has become commercialized and formulated.
"It's actually sad because in a sense we are witnessing the "dumbing down" of America. We now have artists that are more interested in making money then creating something that preserves or reflects the times that we live in. Art is difficult. You want your concept to be simplistic. You don't want to just hand people the meaning of your work. As a poet, I want people to embrace my work and look at my finished work as a piece of beauty."
Troupe is thankful everyday for his arts education and background. "It taught me to be a human being, to listen to literature and I have met a lot of wonderful artists."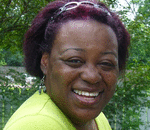 Posted By: Marsha Jones
Thursday, April 7th 2011 at 9:06PM
You can also
click here to view all posts by this author...