Of all the nerve. Tea Party sweetheart Donald Trump was on The Today Show criticizing President Barack Obama of not being a US citizen and pseudo announcing his intent to run for President. Trump says he can't announce it yet because if he does, NBC would have to pull his ratings darling "Celebrity Apprentice." (Its all about money with the Trumpster.)
Frankly, I don't know what made me madder: his criticism of President Obama or his so-called investigation of the President's birthright and place. He calls the President's claim of US citizenship as the biggest scam that was pulled off in America. He trued to prove his case explaining the difference between a birth certificate and record of live birth document. Did America do this to Bush? Shut up.
I think Mr. Trump should keep his opinions to himself. Who is he to hire people to dig up dirt on the President? No one asked him to. He took it upon himself, which also tells me something about "The Donald." And the fact that he would be so bold as to say that he wants to see the President do a great job, but question his leadership? LIE. Is that what they taught you in Corporate America?
I'm so sick of the racist double standard. His appearance on the Today Show opened a lot of eyes this morning. Luckily, I wasn't one of them.
With people like Donald Trump in charge, America will NEVER return to its greatness until it learns to accept and respect all its citizens. When will Corporate America learn that?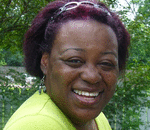 Posted By: Marsha Jones
Thursday, April 7th 2011 at 10:59PM
You can also
click here to view all posts by this author...