No alarm went off this morning. I got a few extra zzz's and heard the news. Normally, I'd be running around getting kids ready for camp. Not this morning. They are now too old to go. So this week, I'm catching up on long overdue books. I'm taking a break from writing duties this morning.
As I was cleaning, cooking and planning out the week in my head (which includes a movie and more weeding), I noticed that I had planned things for everyone to do except me. I'm not talking about cleaning, but fun stuff for me. Last summer, I bought Life Is Short But Wide by J. California Cooper for me to read. I love her. I swore I'd read this book. Yet, it was still sitting in my book pile. Time for me to get my reading butt is gear.
So I told my kids this year, things had to chance. They were now at the age that they could assist with keeping the house clean, completing chores, and not depending on me for certain other things. So, I'm buying tickets to the water park this year and we'll be spending more time outdoors. While they play, I'll be spending more time in Oklahoma with Rose, Taina, and a few other characters.
I want to enjoy the lazy, hazy days of summer. I want to groove to a slower pace. My mind has been dying to wander once the rain washed away the snow. It's time to turn off my TV, put my chair outside, soak up the rays, and get my imagination cranking.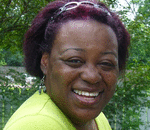 Posted By: Marsha Jones
Monday, April 18th 2011 at 11:01AM
You can also
click here to view all posts by this author...