I wish I could make this up, but I can't. A few weeks ago, Rochester, New York was the site of an escape attempt by two black inmates and one had less than a week left on his sentence. What makes the story so odd is that these two men escaped and no one saw them. NO ONE.
FBI and other agencies were brought in. These men were considered armed and dangerous. Patrols were heighten. Neighbors stopped. Cars searched. Yet, there was still the questions: How did they get out with no one seeing them?
They were now gone a week. No site of them. I figured they were in Atlanta, Canada or even Mexico...for goodness sake's. At 8 p.m., on Friday night, a news bulletin was splattered all over the TV set. Turns out, the police caught them here in area. They were in Sodus, New York, hanging out where every one could see them. Another twist to the story. They paid someone $50,000 to help them get out of jail. And they planned on staying here. I don't get it.
Common sense tells you that you should leave. Why stay? Did they miss jail that much? They had it made. Staying in Sodus is like staying at your local zoo. EVERYBODY can see you. Go someplace where no one knows your name let alone your face. As one inmate was headed back to jail, he wished he had been shot rather than go back. The first thing I thought? Besides the fact that they were stupid. Be careful what you wish for.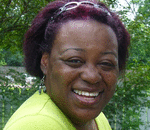 Posted By: Marsha Jones
Monday, April 18th 2011 at 11:34AM
You can also
click here to view all posts by this author...