Currently, there is no love lost between former City Superintendent of Schools Chief Jean-Claude Brizard and the Rochester, New York School Board. Brizard resigned abruptly yesterday after accepting a CEO-kind of position with the Chicago School Board. Even though, he claims he wasn't looking and that Chicago came to him: Brizard resigned his position via a fax and handled his resignation in a ticky-tacky manner. For goodness sakes man, you are in an upper management position, who really quits a job that way.
I have a bigger question for our school board: why is it that when we have an educated black man leading the district, we as a community can't seem to support him one hundred percent? The first name that comes to mind: Laval Wilson. Then, there's Clifford Janey. Now, we can Jean-Claude to the casualty list.
We hold black educated men to a double standard.
We expect black leaders to want to work for less money because the children at risk here are of color. And since they are black they should want to do it. It's a BLACK thing. I don't think so.
I'm offended by this train of thought frankly. From day one, I was livid that people expected a black professional to work for less and take one for them team. I don't ever remember community members getting bent out of shape because a white man had a higher salary. Sorry, I don't. Just being honest.
Brizard isn't perfect. He definitely wasn't vested in our children's future. He walked the walked, but did things half-assed frankly. As far as I'm concerned, Brizard might has well snuck out of town on a train in the middle of the night with packed suitcases and a one-way ticket. He made no effort to really let others get to know him or become a part of this community after three years. He did things to promote his wife's business. School Board President Malik Evans supported Brizard and is currently eating crow.
Evans defended Brizard's actions (or rather lack of them) and he has big time egg on his face for it. Brizard feels he shouldn't have to pay for the search of his new replacement. Yes, actually he should. The short notice you gave them. The unprofessional manner in which he submitted his resignation. He should have let his current employer know first then see it on TV for himself. Children first? My butt. Brizard only thought of himself. He turned his back on a district that ignored him for three years.
It just seems that Rochester has a hate-hate relationship with its black superintendents. Their screening process is getting ridiculous. The questions. The doubts. The credentials. Lawd, lawd, lawd. I'm just wondering how long we as a community are going to put up with this. Our kids are already suffering. Their future at this rate doesn't look great. I'm sick of the Union President bullying people. I'm sick of teachers putting their needs above students. I'm also tired as a parent using tax dollars to support a system that doesn't work.
Something needs to be done. The bigger question: Is it already too late?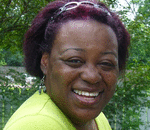 Posted By: Marsha Jones
Thursday, April 21st 2011 at 12:05AM
You can also
click here to view all posts by this author...