To the new recruit family of (name withheld), we met in Renae's tax office just 8 months ago, early in the 2011 tax filing year. We bumped into your lovely wife (name withheld), earlier today. With her were your two sons men would fight over to call their own sons. They are growing up to be so mannerable and respectful, giving me their firm handshake and Renae a hug. They remembered us from earlier as well. She and I had gone to walmart to pick up some marketing materials as we prepare for the oncoming 2012 tax season. What she had to tell us was not what we wanted to hear. I mean, just a few months ago you were so so excited about entering the army, joining some of your friends who too wanted to do their patriotic duty in serving ourcountry.
And naturally, one of the questions we would want to ask firsrt, would be if your tax refund was as expected. If it were in the amount Renae and helpers calculated, and be sure to come see us in the upcoming season ifyou liked our service, etc. So she began to tell us how pleased you had been. Everything about your taxes was just what you and she had anticipated.
And then the tears. Why the tears? Was she sick? If so, how could we help.. ? That's when she re-gained enough composure to utter the forlorn phrase: "He did not make it"! Sobbing almost uncontrollably; her boys trying so hard to comprehend, this now saddened encounter, bereft of joy. Our hugs and expressions turning out to be grievously inadequate. You were not supposed to be dead at age 30.
However, on that particular day, your last to be with us, in a noble and unselfish act of service to country and fellw soldiers (name withheld), your short stay in afghanistan-3-weeks post basic training and you had volunteered. Your choice was to be with several other of your high school buddies who had gone to serve in the military. Your closest buddy had shipped out several months earlier and it so happened you and he were putgether in the same company in the Afghanistan war theater.
As fate would have it that dismal day, a rocket launched grenade struck your company's truck, landing at the feet of a fellow solder in the truck with you and your buddy. It did not explode. You fearing it would on a hunch, ran to grab it and toss it clear of the vehicle, and away from your companions. Your hunch was right. It exploded as you heaved it into the air. The concussion resulting spread shrapnel as well as pieces striking you about the face and tinier shrapnel pieces penetrating and critically injuring your brain. HOW SAD! What courage and display of love toward your fellow soldiers, not hesitating for fear of fatally harming yourself. How sad? You loved your country, army buddies selflessly; your family and adopted country of America, always with loyalty and devotion. Your Marines call it: Sempre Fi. You gave the ultimate SACRIFICE, proving how deep was that love shown toward those known-and unknown of your fellow American citizens, most;would nevert even hear of the price you paid in the cause to keep them free; to continue to live a way of life that is the envy of the world.
And how much we wish you could hear this prayer of thanks for having met you and your family; your giving us the chance to serve you. We appreciate highly, you and your brave Hispanic kinsman. Many too, have given much in preservation of America's freedom. You were brave, a hero in our eyes. And we are grteful to have known you-though it was for a short time. Providence has decided. So, hasta la vista dear brave friend. You too, died that your friends might live. No higher calling can there be: And we'll see you, in the by and by. Until then, Rest in Peace, safely, in God's capable and loving CARE...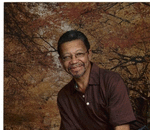 Posted By: Bill Cooper
Thursday, October 13th 2011 at 11:33AM
You can also
click here to view all posts by this author...