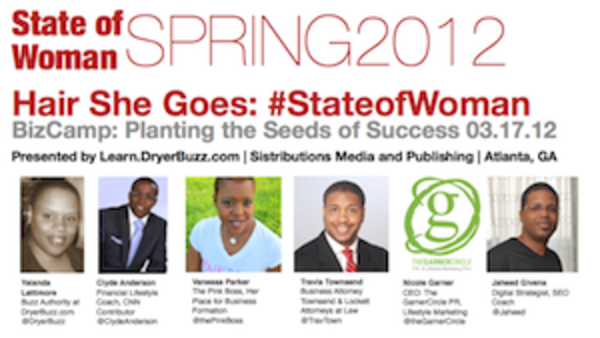 The State of Woman BizCamp: Planting Seeds of Success (#StateofWoman) will make history in Atlanta, Saturday March 17, 2012 9am to 4pm at the Loudermilk Center in Downtown Atlanta. #StateofWoman is sponsored by DryerBuzz.com and the learning channel for entrepreneurs Learn.DryerBuzz.com.
In celebration of Women's History Month, female entrepreneurs will come together to in a forum conducive to their uniqueness to #OccupyOwnership with a goal of increasing the 1% to 2%. When the man behind the brand is a woman, the state of business and recovery of America is tied to her purse strings. Additionally, the trendsetter has to create a legacy.
#StateofWoman was created by Yalanda P. Lattimore, editor of DryerBuzz.com known for reaching women where they are — under the dryer. DryerBuzz.com will celebrate its 10th Anniversary, online since 2002, during the week of the #StateofWoman BizCamp.
An exciting day of interactive workshops will guide entrepreneurs in refining their business reach; protecting their business and legacies; becoming leaders in their industries; and creating buzz for their business.
Featured Camp Coaches:
Clyde Anderson, Financial Lifestyle Coach and CNN Financial Contributor,
www.FinancialLifeConnection.com
Vanessa Parker, The Pink Boss Inc.,
www.thePinkBoss.com
Travis Townsend, Business Attorney, Townsend and Lockett,
www.TownsendLockett.com
Nicole Garner, The Garner Circle, PR, Lifestyle Marketing,
www.TheGarnerCircle.com
Jaheed Givens, Digital Strategist, SEO Coach,
www.Jaheed.com
To help Plant the Seeds of Success, each coach will facilitate an interactive hour at #StateofWoman as well as lunch with participants.
State of Woman BizCamp Workshops at a Glance:
#OccupyOwnership: You Are What You Are Selling
Plant the Seeds to Leverage Your Harvest
Learn Your Lane ~ Launch Your Business
Protect Your Business and Your Legacy
Market Your Business To Create Buzz
Become a Leader Online ~ Get Found More Often
#StateofWoman BizCamp registration is only $125 and includes full day of workshops, lunch with coaches, and copies of popular selling e-books by #StateofWoman facilitators. Information on discounts and sponsored scholarships are available by following @DryerBuzz on twitter.
Follow the Buzz to register via
http://StateofWoman.DryerBuzz.com.
Use discount code "DryerBuzz" for initial 10% savings. Sponsorship is available.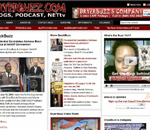 Posted By: yalanda lattimore-DryerBuzz.com
Thursday, February 2nd 2012 at 9:16AM
You can also
click here to view all posts by this author...