Start Living Atlanta Style -- Only in Atlanta can you spend the weekend with Reuben Cannon and 5 top film producers; Saul Williams on the Chorus Spoken Word Tour; and see the best on Atlanta stages. You Got to Follow the Buzz!
Plus, follow DryerBuzz.com to inaugural shows for "Brothers of Affliction." We're Living Atlanta Style Stage by Stage and this week we chose a production by 3 Hill Productions. We're supporting local theatre, are you? WATCH the Buzz
Follow the Buzz:
DryerBuzz News Podcast and NetTV
http://DryerBuzz.com
DryerBuzz on Twitter
http://twitter.com/DryerBuzz
DryerBuzz on Facebook
http://facebook.com/DryerBuzzFB
3 Hill Productions
http://3HillProductions.com
RouteTV
http://RouteTV.com
News is what has happened. Buzz is what will happen. You just got the Buzz from the News and Buzz Authority DryerBuzz.com. Online since 2002. Transforming the way we look -- at life. We Spread the Buzz!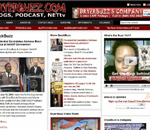 Posted By: yalanda lattimore-DryerBuzz.com
Saturday, November 10th 2012 at 12:21PM
You can also
click here to view all posts by this author...