STATEN ISLAND ADVANCE, November 15, 2012 -- President Barack Obama's visit to a battered New Dorp Beach Thursday afternoon helped lift the spirits of residents as they worked to pick up the pieces of their homes and their lives in the aftermath of Hurricane Sandy.
Outside Debbie Ingenito's Topping Street home stands a fir tree that had been knocked to the ground, hoisted up and decorated for Christmas. It, along with Ms. Ingenito, greeted the president Thursday.
"He gave me two hugs. Two hugs. He hugged me twice," she said. "That made me feel so humbled. So honored."
Her father, Robert Rasmussen, said the president was very sincere when he spoke with storm victims.
"He's a caring man. I can see that he's caring. It's not phony," Rasmussen said.
Mrs. Ingenito said she told the president a bit about what she's been going through.
"It's just so stressful," Ms. Ingenito said. "Because nothing is getting done quick enough."
Rasmussen said Obama's visit made people feel like somebody cared about what they were going through in New Dorp Beach - and Mrs. Ingenito said it brightened her day.
"He made me feel really good," she said.
Bruce Randall, 51, tried to describe to the president what his visit meant.
"You're leaving an aura through the neighborhood, and that's what we need," Randall, 51, said of the president.
Randall spoke with the president outside of his Cedar Grove Avenue home, which is missing its entire front.
"I thanked him for coming because I really think all the infrastructure is there," Randall said. "It's now putting it to good use."
The president even greeted his small dog, Maddy, who barked a bit and jumped on the president's leg.
"I know you're fierce," the president told the dog, Randall said.
Randall rode out the storm in his home, and told the president a little bit about his experience.
"It was looked at as either courageous or stupid, but either way we were going to stay," he said.
He wanted to guard his collection of tribal art, he said. He and his wife Amy donned life jackets and holed up in the attic as the home filled with water. They had a rubber boat ready to go if they water rose any higher.
Now he's struggling to figure out how to rebuild. His homeowner's insurance won't cover much of the damage, arguing its from surface water. But Randall said much of it wouldn't have happened if the wind hadn't blow his window out, turning his house into a churning washer machine.
"Unfortunately FEMA only helps to a certain dollar amount, and for some people it's just not enough," Randall said.
But so far he was happy with FEMA's work and the federal government's efforts. The president's message back was simple, Randall said.
"We're going to help," the president told Randall, he said.
Randall said he made sure to tell Obama he voted - saying a cohesive federal government was key in the aftermath of the storm.
"Despite all of this, we were ragged, but we made the effort to get out and vote - for him," Randall said.
From their attic, the Randalls called their neighbor, Dominic Traina, the night of the storm to tell him he'd lost part of his roof. An hour later, Randall called to say the front of the house had collapsed, Traina said.
Now, the home he and his wife Sheila shared for 42 years, where they raised four children, is a heap of wood and furniture and memories. After helping them search through it, the Traina's grandchildren, Maggie, 11 and Kate, 14, wrote letters to Obama.
The president wrote them one back, on a handsome piece of cardstock with the words "From the White House" printed on the bottom.
"Thanks for the letters - I'm going to help!" the president wrote, followed by his large signature.
"It's historic. New Dorp Beach, we've been here 46 years," Mrs. Traina said. "And I guess this is the most exciting thing that's happened."
Mrs. Traina said they've asked for help in the past with flooding - with a seawall project dating back to the 1970s. It was de-funded, she said, and never came to be. A park was build along the beach instead, taking down some trees. Now even more are gone thanks to the storm.
"Now we just about have an ocean view," she said. "And the whole beach has changed."
The Traina's were grateful for the president's visit.
"I'm just glad he showed up," Mr. Traina said. "He's down to earth. He felt the pain."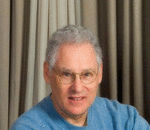 Posted By: Richard Kigel
Thursday, November 15th 2012 at 8:04PM
You can also
click here to view all posts by this author...