For several years I was buying the next new shiny thing that would, supposedly, help me earn thousands of dollars a month, a week or a day. After spending a bunch of money on different programs my cousin kept insisting that I should write. I had written 2 books in the past but he was speaking of eBooks for Kindle. I finally gave in and started writing again. That was in September. I now have 8 books on Kindle and several have been Best Sellers in their particular Niche.
Kindle publishing is much easier than traditional publishing because "It's Free." There are no costs so whenever you make your first sale, you're into profit.
I know that some people want a traditional book to see their name in print. There's nothing wrong with that. However, that gets expensive. Amazon has a program called "Create Space." They will publish your book for free in paperback. Your only cost will be the cost of a proof copy. Whenever a book sales, a book is printed.
You can take that same eBook and publish it on the Nook, iTunes, Kobo and other platforms. With one book you can develop multiple streams of income.
I will be writing about other other opportunities in the future. Questions? Contact me through HBCU.
My Author Page on Amazon is,
http://www.amazon.com/-/e/B007742TEW
Have a prosperous New Year.
George Puckett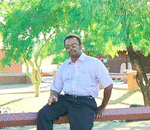 Posted By: George Puckett
Sunday, December 30th 2012 at 1:38PM
You can also
click here to view all posts by this author...