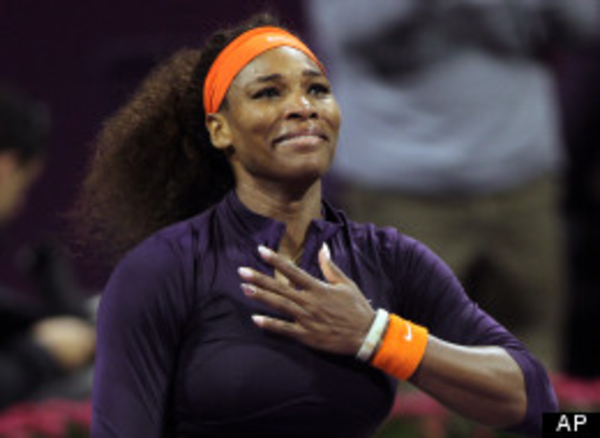 HUFFINGTGON POST, February 15, 2013 -- An emotional Serena Williams returned to the top of women's tennis, overcoming a series of potentially career-ending injuries since 2010 to become the oldest woman to hold the No. 1 ranking.
The 31-year-old Williams rallied from 4-1 down in the third to beat former Wimbledon champion Petra Kvitova 3-6, 6-3, 7-5 in the quarterfinals of the Qatar Open on Friday. She needed to reach the semifinals to replace Victoria Azarenka at No. 1 when the rankings come out next week.
Williams held up one finger after clinching the match with an ace and wiped away the tears as she addressed the cheering crowd.
"I never thought I would be here again," Williams said. "Oh my gosh, I've been through so much. I never thought I would be here."
Chris Evert held the top ranking in 1985 just shy of her 31st birthday.
It has been a long journey back to the top for Williams.
Shortly after winning Wimbledon in 2010, she cut her feet on broken glass while on her way out of a restaurant in Germany. That led to two operations on her right foot. Later, she had blood clots in her lungs and needed to inject herself with a blood thinner. She needed to go to the hospital when those shots led to a pool of blood under her skin.
Williams lost the top spot to Caroline Wozniacki in 2010 and tumbled down the rankings. But she made a comeback worthy of a No. 1 in 2012, winning Wimbledon, the Olympic gold medal, the U.S. Open and the season-ending WTA championships. She lost only one match in 2012 after her first-round exit at the French Open.
"There were often times that I never thought I'd play again. Then I thought I'd never be able to win tournaments or Grand Slams," Williams said. "No. 1 was so far off. I mean, it was always a dream, but, you know, I was No. 1 when tragedy struck, and it was just an awful thing to happen. So I'm happy that I'm back."
She'll face third-ranked Maria Sharapova in the semifinals. Sharapova said the return of Williams to the top proved the staying power of the veterans.
"It just shows you how the generations have shifted a bit," said the 25-year-old Sharapova. "You know, maybe five, 10 years ago you saw a lot of the younger players achieving much more success and winning Grand Slams. And now, you know, you see Li Na and Serena doing so well.
"It just shows you how if you stay healthy and you're able to keep working hard, the things that you're able to achieve in tennis at that age."
WTA chairman Stacey Allaster called it an "amazing accomplishment" for a "superstar champion who has played an integral role, over the past 15 years, in solidifying tennis as the global leader in women's sports."
It wasn't a dominating performance on Friday from the 15-time Grand Slam winner. Erratic at times and appearing to favor her right ankle that she injured at the Australian Open, Williams committed 31 unforced errors throughout the match and hit eight double faults.
She also struggled early on with the Czech's serve and forehand in the first set. But her own serve saved her, especially in the second set when she went on to win 13 of the final 14 points – pumping her fist several times and screaming, the first signs of emotion so far in the tournament.
Down 4-1 in the third, Williams broke Kvitova when she double-faulted to make it 4-3. Though it seemed the match would go to a tiebreaker, Williams broke with a wicked crosscourt backhand to make 6-5 and won it with one of her 14 aces.
"I stuck in there, and I just never gave up. I always felt like if I can just keep fighting and I can just try to do it," Williams said. "I definitely did not play great. With that being said, I think Petra played unbelievable, and I think she was just hitting shots I had no chance to get. I don't think anyone on this tour could have gotten."
Meanwhile, Azarenka stayed on course to retain her Qatar Open title after dispatching Sara Errani 6-2, 6-2 to also reach the semis. She was joined by Sharapova, who advanced by beating 2011 U.S. Open champion Sam Stosur 6-2, 6-4.
Agnieszka Radwanska beat Caroline Wozniacki 6-2, 7-5 to set up a meeting with Azarenka.
Azarenka won all 14 net points in the match to make it 12 straight victories in 2013, including winning a second consecutive Australian Open title.
"The score never tells the whole story, really. We had a lot of really long rallies. I was expecting that. She's a very good fighter," Azarenka said. "I really felt like I took big advantage of the important moments, stayed aggressive, and really dictated my game."
Sharapova, looking for her third title in Qatar, broke Stosur twice to lead 4-1 in the first set. She took a 3-0 lead in the second before Stosur staged a brief comeback, but she missed a chance to even it at 4-4. The Russian closed it out when her backhand clipped the net and dropped over.
"I really started playing well when I had to and being aggressive at the right times," Sharapova said. "On the important points when I had to, I came up with really great first serves. That helped me win."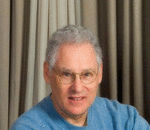 Posted By: Richard Kigel
Friday, February 15th 2013 at 6:55PM
You can also
click here to view all posts by this author...