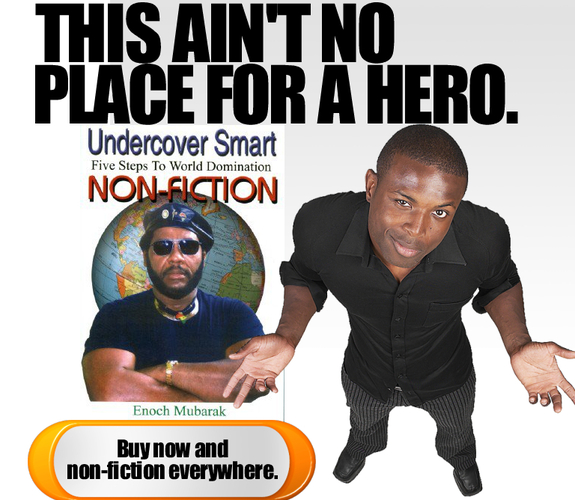 It is not delusional or harassment to have the expectation of readers, writers and producers accepting the responsibility to hold, reinforce and advance the front-line of our inclusion in and beyond the 21st century.
In our current situation every day blue collar African Americans are struggling for their existence in the 21st century global equation, I believe that the readers, writers and producers holds the key to our current situation and advancement.
There is no "Enoch" situation. I am merely a small clog in a big wheel that believes that our future exist beyond the limitations of our self segregation. I personally advocate reading and writing as the vehicle for accomplishing the African American Agenda of inclusion.
As of this very moment the DuSable Museum and Operation push is working with the Mexican fine Arts Museum to usher in a new classification for African Americans to wit: Afro Mexicans.
There are external forces moving against us as of this very posting. We don't have a whole lot of time left to figure this out.
On March 2, 2006 In the lecture and discussion entitled Photography: The Art of Documenting Culture, weren't photographers from the exhibit speaking and examining blackness, identity and documenting Afro-Mexican communities.
April 1, 2006 Lecture and discussion by symposium scholars presents: Latest research on Afro-Mexican History, culture and relations.
April 7, 2006 "There is no better ongoing way to establish a high public profile; than to insure the involvement of leaders from the African American and Mexican communities to wit: The DuSable Museum and Operation Push, thereby creating a new classification for African Americans to wit: Afro-Mexicans.
May 18th, 2006 A concert at the Muntu Dance theater feature performer is Mexico's most famous performer of Afro-Mexican music. On the same night the world premier of the story "Yanga" tells of a African Slave in Mexico that becomes the founder of the first town of free slaves in America.
Now you tell me what "Insight can African Americans add to that? The DuSable Museum and Operation Push are only called upon because the external forces need a way in.
I am telling African Americans that there is a storm coming and we don't have long. Networking with each other on an inclusive level is the best defense we have right now. If we want to live in and beyond the 21st century you will have to defend your right to exist.
There will be no African Americans and African Mexicans because physics tell us that no any two given objects can occupy the same given space at the same given time,
As you have previously read, the Mexicans have their own black history,culture and connection to Africa. There is no insight that African Americans can add to the situation.
If I am telling you something then know that its from my mouth to God's ear. I don't speculate. African Americas will not be absorbed, they will be eliminated and replaced.
What makes this situation different from all others is the fact that this situation is not motivated by racial hatred. The Afro Mexicans through population growth need our residual resources for their survival as well. This is about survival.
I understand about not force feeding adults.I understand that it is not the black woman's responsibility to hold down the front line. It is the woman's place to be a helpmate to the man. It is the black man's place to hold the front line for the least of us but the black man is without courage or conscious.
It is unconscionable that African American institutions such as Operation Push of Chicago and The DuSable Museum in Chicago opened the doors to our genocide when they aligned with the Fine Arts Mexican Museum and offered up our residual resources in their behalf.
The N.A.A.C.P. is doing nothing. The National Urban league is hiding and without protection from the Europeans the Congressional Black Caucus is impotent.
As I am a black man this situation does not afford me the luxury of being humble and patient in my alarm, approach, cynicism and severe criticism. This situation requires force feeding at the highest levels of black professionalism.
Intelligence reports coming out of Venezuela confirm the orders that Chavas issued to the Spanish players that they move as one unit against the U.S.A. to secure the resources needed for their expanding population.
At this very moment the European players are in a "Custer's" last stand to survive as they attempt to fend off a five pronged assault from the Iraqis, Spanish, Chinese, Afghan and North Korean players.
The European players intend to fight to the last man if need be and even if the European players by some hail Mary do succeed they will not be coming back this way. Even as I write this the European players have retreated their women and children behind their digital technology and firewall.
The Europeans are at this very moment rapidly dismantling the same domestic infrastructure that African Americans are still trying to build their future and dreams upon.
As of this writing and aside from Mubarak Inter-prizes African Americans have no infrastructure, technology or industry to shield and protect us from the Spanish players population assault.
Without an infrastructure, technology or industry to shield and protect us from the Spanish players population assault we are left out in the opening without protection or cover. Once the Spanish players have depleted our residual resources of land ,food and water we have no means of replenishing them.
For all practical purposes we have been cut out of the 21st century. We are currently at the mercy of the Spanish players and we are also in the same and exact condition as our African teammates in Darfur.
Read undercover Smart and save yourself. Undercover Smart is divine intervention. Recognize the hand of God.
Sincerely, Enoch Mubarak
President/CEO Mubarak Inter-Prizes
www.mubarakinter-prizes.com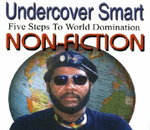 Posted By: Enoch Mubarak
Monday, September 16th 2013 at 12:23PM
You can also
click here to view all posts by this author...