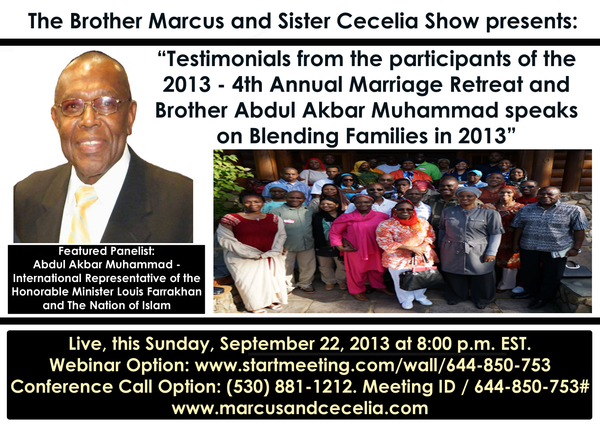 God willing, on this Sunday September 22, 2013 at 8:00 p.m. EST. please join your Relationship Servants, Brother Marcus and Sister Cecelia, as we bring the participants of the 2013 – 4th Annual Retreat to share live testimonials with you and Abdul Akbar Muhammad reflects on his experiences with this year's Retreat and also speaks on successfully blending families in 2013. Brother Akbar is the International Representative of the Honorable Louis Farrakhan and the Nation of Islam and is a noted lecturer and historian. What did the participants learn this year at the 4th Annual Marriage Retreat in Pigeon Forge, Tennessee? Which workshops were the most significant? Would they recommend this to other couples to take advantage of? What do the husbands say is the tremendous value of their wives in 2013? We plan to have a lot of fun with this show and of course you will also get to hear from our magnificent panel of weekly guest hosts and presenters! We love to serve and to learn from you and we specialize in discussions that are worthy of discussion!
Facebook Link to this Show:
www.facebook.com/events/455768831203201
The Time and What Must Be Done:
But before you catch us on Sunday at 8:00 p.m. we all have to watch the Honorable Minister Louis Farrakhan on this Saturday on September 21, 2013 at 6:00 p.m. Central / 7:00 p.m. EST as he delivers Part 37 of his historic lecture series, "The Time and What Must Be Done" -
www.noi.org/thetime
How to access the Live Show this Sunday, September 22, 2013 at 8:00 p.m. EST:
Webinar and Interactive Chat Room Option:
www.startmeeting.com/wall/644-850-753
Conference Call Only Option:
The Conference Call telephone number is (530) 881-1212. When prompted, enter the meeting ID, 644-850-753#
Donations:
We have not nor will we ever charge any participants to listen to the wonderful advice on healing and transforming our marriages and relationships. If you would like to make a love offering it would be very appreciated. Click this link to donate:
www.paypal.com/cgi-bin/webscr?cmd=_s-xclick&hosted_button_id=DDXGD8XL5J6ZN
Our Store:
Visit our New Online Stores for all of Brother Marcus and Sister Cecelia's previous webinars / conference calls and other products and services. We strive to add new items daily and it is another way to support our Marriage and Relationship Strengthening Ministry!
www.shop.marcusandcecelia.com
www.marcusandcecelia.com/Products.php
Annual Marriage Retreat: The 4th Annual Marriage Retreat "The Struggle for Balance and the Tremendous Value of our Wives" is a wrap! God blessed us abundantly during this retreat with record attendance. Please stay tuned for your opportunities to get the downloadable programs on your laptop or desktop.
Our Social Media Presence:
Follow Brother Marcus and Sister Cecelia on Facebook or become their Facebook friend if we are not already friends:
Facebook:
www.facebook.com/brothermarcus.peace,
Twitter:
www.twitter.com/brothermarcus
Instagram:
http://instagram.com/brothermarcus
Join our new Group on Facebook:
www.facebook.com/groups/thebrothermarcusandsisterceceliashow
Connect with us on Twitter:
https://twitter.com/brothermarcus
Please 'Like' all of our Facebook Pages:
1.
www.facebook.com/pages/The-4th-Annual-Black-Marriage-Retreat-Pigeon-Forge-Tennessee/510590169008397?fref=ts
2.
www.facebook.com/brothermarcusshares
3.
www.facebook.com/MarcusAndCeceliaShow
Our Health Care Products:
Please check out our wonderful health care products!
www.immunotec.com/respect4life
How to Bring Brother Marcus and Sister Cecelia to your City for your next event, or meeting: We are available to conduct both Singles Success Seminars and Marital Improvement Workshops. Please visit our official Website at:
www.marcusandcecelia.com
Free Cloud Storage:
Option 1 - If you are busy like we are you can always have your stuff when you need it. Try what we have tried and have come to love…The Dropbox Program / Sign up for free!
www.db.tt/zMpK4SeU
Option 2 – Have you ever tried Cubby? This program starts you off with over 5 Gigabytes of free cloud storage that you can access of your Cell Phone, Tab, Laptop or your desktop. Check it out for yourself!
https://cub.by/i/01_hCNCcSBL.Dk
Facebook Link to this Show:
www.facebook.com/events/455768831203201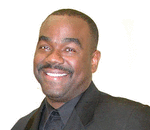 Posted By: Brother Marcus!
Friday, September 20th 2013 at 4:47PM
You can also
click here to view all posts by this author...