A PRAYER TO START YOUR DAY"
by Dr. Ray Hagins
Chief Elder& Spiritual Leader Of The Afrikan Village & Cultural Center
To the One, True and Living, Almighty God/Goddess of the Universe, today I bow in worship and praise before You. ....., by the power of Maat,
..... I surrender my mind to You, .......Greater is the power of Maat in me.....Almighty One.
......I realize that my body is a temple for Maat....... By the power of Maat,
......Almighty One, ... I welcome all the power of Maat and of our Ancestors in my life today.
The balancing of the land lies in Maat: Truth, Justice and Righteousness. Do Maat and live!
MAÁT:
as a goddess in other traditions of the Egyptian pantheon, where most goddesses were paired with a male aspect, her masculine counterpart was Thoth and their attributes are the same.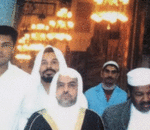 Posted By: powell robert
Wednesday, December 25th 2013 at 2:13PM
You can also
click here to view all posts by this author...