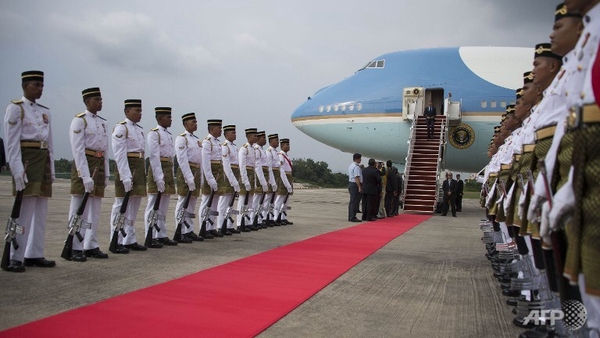 BREAKING -- "Obama lands in Malaysia, chased by foreign policy woes," by AFP's Stephen Collinson in Kuala Lumpur: "Barack Obama arrived in Malaysia on Saturday hoping to energise relations with the predominantly Muslim country and re-focus a four-nation Asian tour repeatedly distracted by foreign-policy crises elsewhere. Obama became the first serving US president to visit Malaysia since Lyndon Johnson in 1966 as he tours Asia to underscore his 'rebalance' of US attention toward the strategic Asia-Pacific ... But hotspots elsewhere in the world have repeatedly intruded.
"In ... Japan and South Korea, the US leader was forced to deal with the spiralling confrontation with Russia in Ukraine, a faltering Middle East peace process, and perennial bugbear North Korea. In South Korea on Saturday, Obama called North Korea a 'pariah state' after satellite images suggested it was preparing for its fourth atomic weapons test ... On Friday night, Obama had to rush from dinner with South Korean President Park Geun-Hye to convene a conference call with European leaders aimed at toughening sanctions on Russia over Ukraine. ... He leaves Monday morning for the Philippines."
http://goo.gl/kCAocV
--"Putin Halts All Talks With White House," by The Daily Beast's Josh Rogin: "The Kremlin has ended high-level contact with the Obama administration, according to diplomatic officials and sources close to the Russian leadership. The move signals an end to the diplomacy, for now. ... Obama and Putin last spoke over the phone on April 14, a call that the White House said was initiated at Moscow's request."
http://goo.gl/8lKpfI
--"G7 agrees new sanctions on Russia as observers held in Ukraine," by Reuters' Thomas Grove in Slaviansk, Ukraine: "Leaders of the Group of Seven major economies agreed to impose more sanctions on Russia over the crisis in Ukraine, where armed pro-Moscow separatists have detained a group of international observers they accuse of being NATO spies."
http://goo.gl/XR6KiC
http://www.channelnewsasia.com/news/asiapacific/obama-lands-in-malaysia/1084130.html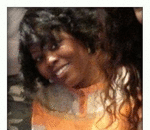 Posted By: Jen Fad
Saturday, April 26th 2014 at 11:46AM
You can also
click here to view all posts by this author...